Discover Sifnos, the foodie destination of the Cyclades, with our insider's tips!
All dressed in white, Sifnos is famous for its authentic Cycladic beauty, gastronomic delicacies, beautiful pottery, crystal-clear waters, and mesmerizing views. Let our insider's tips guide you to the birthplace of famous Greek poets and experience island life with all five senses.
[separator type="whitespace"]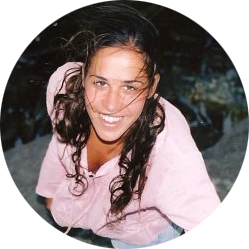 Eleni Pappa
Eleni is a mother of 2 who lives in London and spends her summers at her home in Sifnos.
[separator type="whitespace"]
When did you first visit Sifnos and what keeps you going back?
I first visited the island with my dad and siblings when I was 10 years old. We used to go every summer as a family and ended up building a summer house there. I keep going back because the people are lovely. We see the same faces every time we go and it feels like we never left. It is the only place I can truly relax. Plus, the diving and food are amazing!
What's your most memorable experience in Sifnos?
Definitely my wedding and the party we had the night before the wedding.
What does summer mean to you?
Warmth, absolute relaxation, and no shoes!
Which three words best describe Sifnos?
Food, natural beauty, kindness.
Where to stay
If you're looking to stay close to the beach, then Platys Gialos on the north side of Sifnos is a great option, as it has a number of hotels and rooms-to-let that will satisfy every budget. You can enjoy the long, sandy beach, as well as numerous restaurants, bars, and mini markets that are close by. No car required!  However, for maximum relaxation, I recommend the luxurious Elies Resort on the beautiful beach of Vathi, located on the southwest side of the island. Surrounded by mountains and the sea, it is a luxurious hotel made up of traditionally designed rooms, suites, and villas, built in such a way that they do not interfere with the natural landscape. www.eliesresorts.com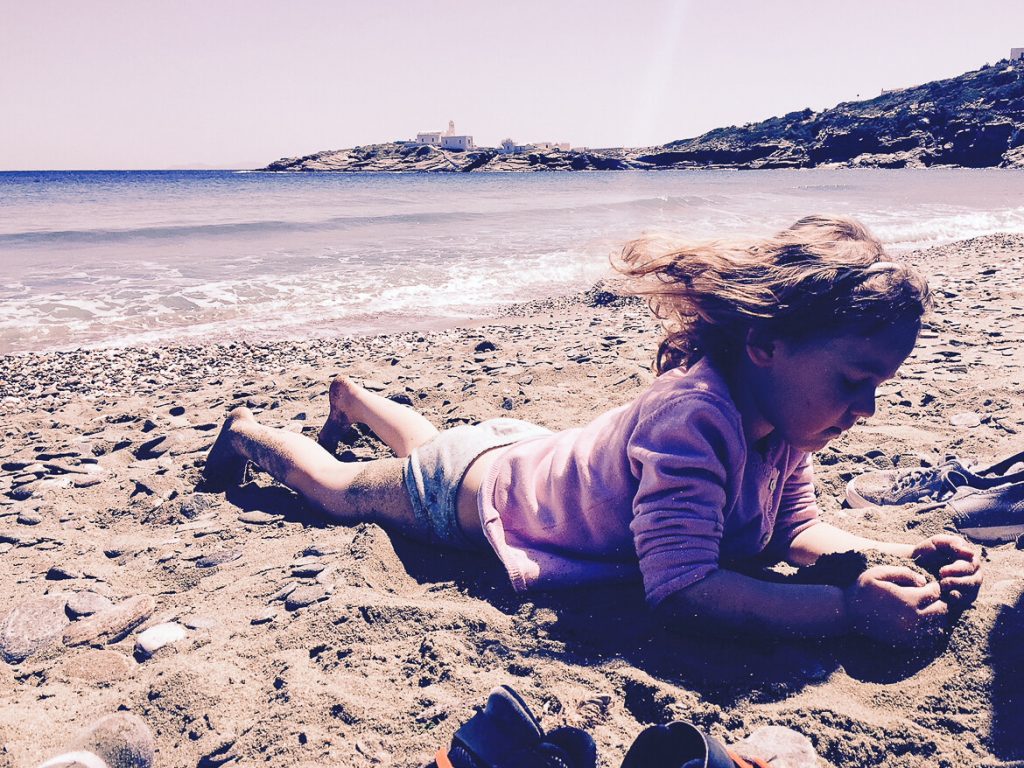 Top beaches
Although Sifnos is not famous for its endless sandy beaches, its sea is heavenly: clear blue, refreshingly cool, clean, and peaceful. My first choice for swimming is Chrysopigi. This sacred rock, with its snow-white monastery and the pristine Aegean Sea as a backdrop, is the perfect spot for diving. You get an instant energy kick from the moment you jump in, leaving you refreshed for hours. The rocks are all flat, big, and slightly tilted, so even sunbathing is immensely relaxing. Pure bliss!
Platys Gialos comes next on my list. Wide and sandy, it has everything you need if you want to spend the entire day at the beach, from cafes and beach bars to traditional taverns and gourmet seafood dining. I try to wake up early and get there around 9 for some breakfast at the beach bar Palmira and then enjoy an early swim before it gets crowded.
Last, but not least, is Kastro and the famous Epta Martyres (Seven Martyrs), a tiny little church which sits upon a rock islet that emerges from the sea. The water is crystal clear and turquoise blue, and the fact that you have to walk down more than 100 steps to get there makes this place a peaceful hideout.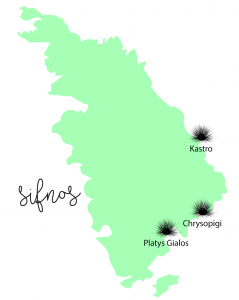 Runner-ups: Poulati, Vathi, Kamares, and Apokofto.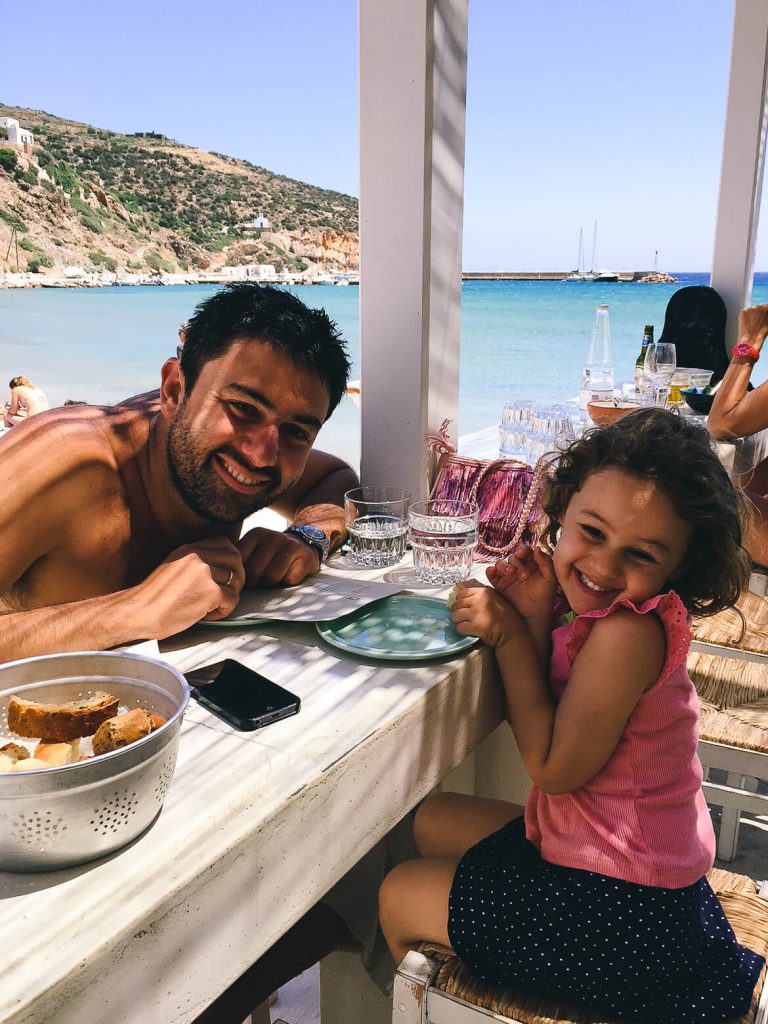 Where to eat
Sifnos is a gastronomic mecca. In fact, the most influential Greek cuisine cookery writer and chef, Nikolaos Tselementes, was from Sifnos, so they are pretty serious here when it comes to food. And good at it too! The island's specialties are revithokeftedes (fried chickpea balls) and loukoumades (fried dough balls covered in honey and walnuts).
The best place to taste the local delicacies is the tavern Apokofto in Apokofto. Mr. Tsapis and his team have nailed every menu item, with revithada (chickpea stew) and mastelo (lamb or goat cooked in a traditional clay pot) being their signature dishes. It also has an incredible view of the Chrysopigi monastery. My ideal lunch there is grilled octopus, Greek salad with mizithra (a local soft cheese), and ouzo. Then I'm ready for a mid-day siesta!
I would also recommend Drakaki in the main town of Apollonia. This quaint restaurant specializes in traditional Greek hors-d'oeuvres (mezedes) and has generated quite a buzz for its (shockingly) good prices and amazing food. The slow cooked beef in tomato sauce is to die for!
Omega 3 is also a place worth trying. The menu successfully blends Mediterranean (ouzo infused crab with orzo rice), South American (sea bass ceviche), and Japanese cuisine (tuna sashimi). Each dish has been carefully thought out and created to give your palate the most unique and satisfying experience, leaving you wanting more. I crave their fish and lentil salad.
Runner ups: Mamma Mia (Apollonia), Limanaki (Faros), Maiòlica (Platys Gialos), Mosaico (Artemonas), To Chryso (Artemonas).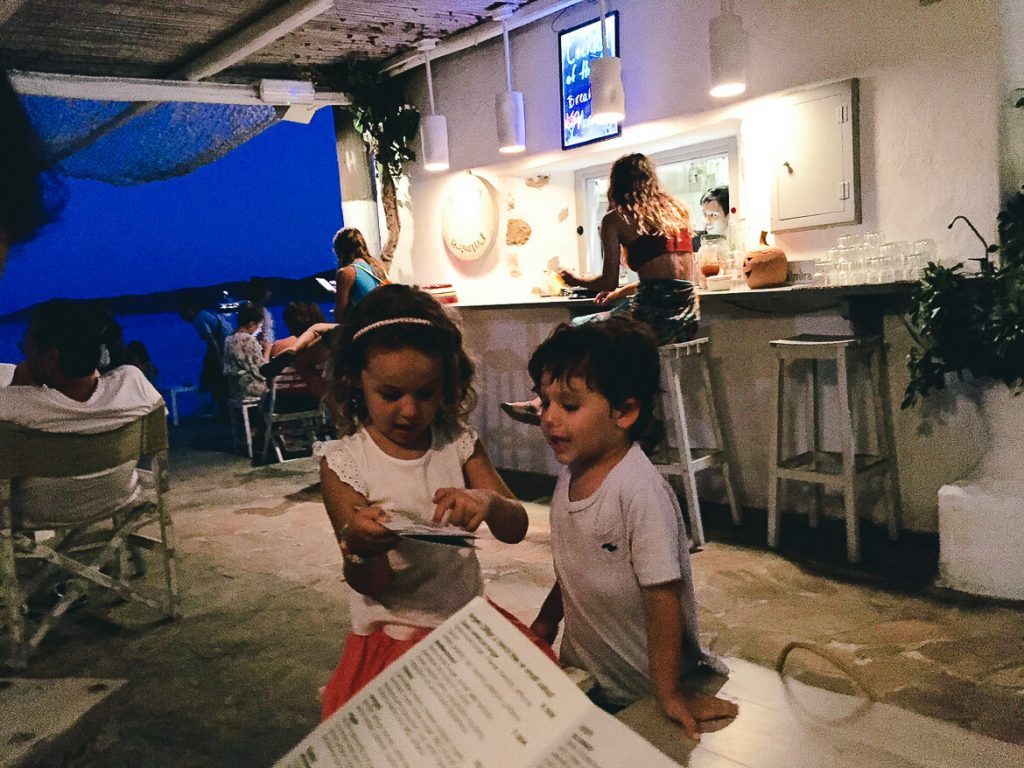 Where to drink
The main town Apollonia is probably the best place to go for shopping, drinks, and dancing. There, you will find cool bars with cozy terraces and good music where you can enjoy great cocktails underneath the stars. Botzi, Doloma, and Argo are my top picks.  If you prefer your drinks with a side of sandy feet and an ocean view, then the beach bar Palmira at Platys Gialos is perfect.
Most Instagram-worthy views
You'll find one of the most breathtaking views at the monastery of Chrisopigi—the patron saint of the island—which is built up high on the rocks overlooking the idyllic beach below. For an amazing sunrise pic, wake up early and go to the church Epta Martyres (Church of Seven Martyrs) in the village Kastro. It sits on top of a rocky islet with panoramic views. Finally, Kamares, the port of Sifnos, is not your traditional island port. It's more like a tranquil little beach town and probably the best place to sit back and watch the sunset… with camera in hand of course!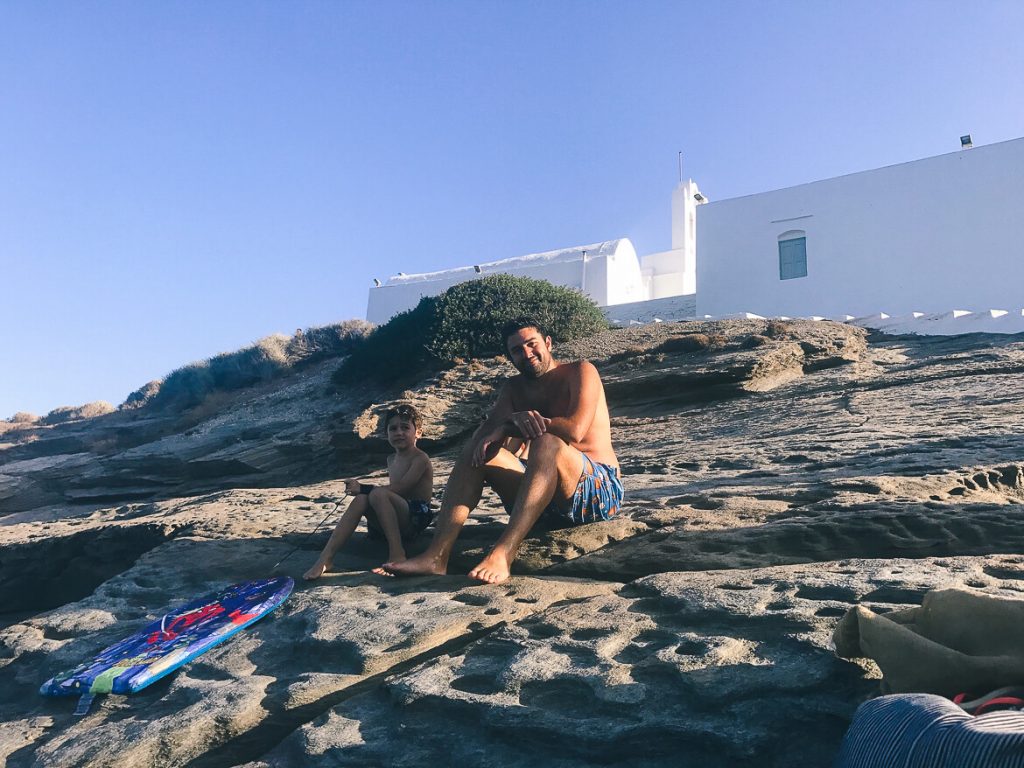 Once-in-a-lifetime experience
The trekking trail up to the monastery of the Prophet Elias (Profitis Ιlias) is probably one of the most difficult, but also the most beautiful route-paths of the island. The monastery sits on top of the highest mountain and you'll need at least an hour to reach it, but you will be rewarded with an amazing view of Sifnos and other Aegean islands.  Also, did I already mention the epic 10m high rocks at Epta Martyres in Kastro? Dive away!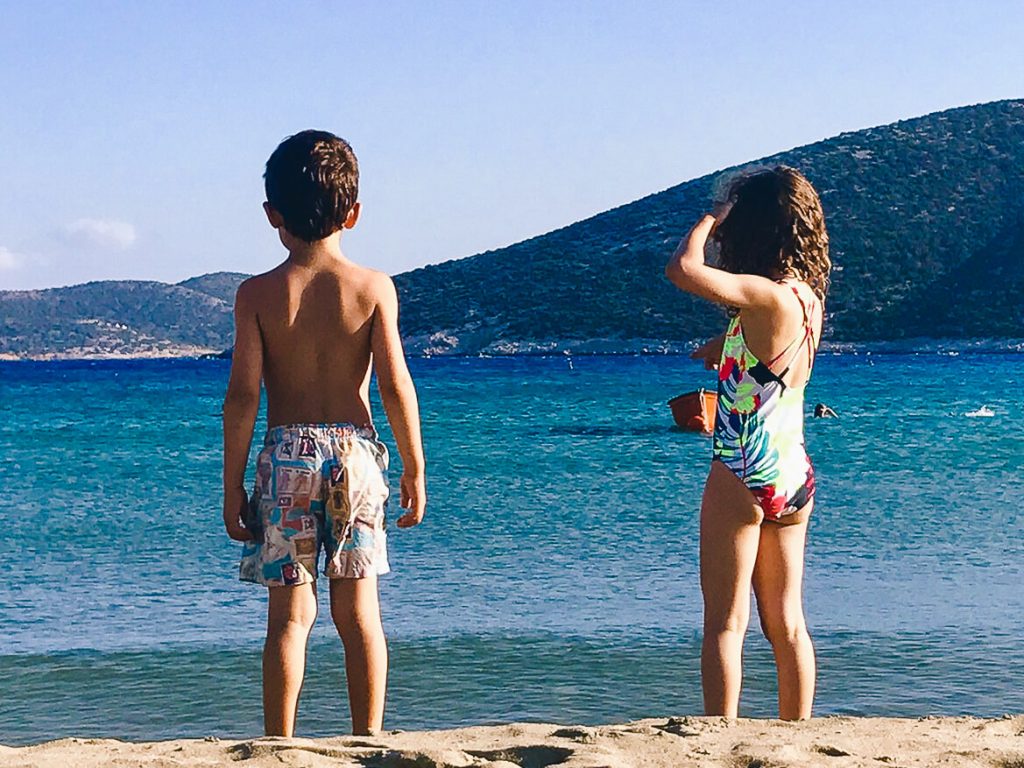 Best kept secret
Even though I don't want to give away all of my secrets, I'm willing to share two of them! The first is the traditional tavern Cheronissos, which is located in the bay of the small, picturesque fishing village of the same name. With tables situated right next to the sea, it serves the freshest fish and lobsters around! The second is the pop-up, open-air cinema Cine Dragatsi in Artemonas. Entrance is free as the cinema is 100% donation funded. Presently, it can only accommodate 100 people at a time, so get there early!
The local spot
The pastry shop Grigoris in Artemonas is a must for sweet lovers. Don't leave without trying their anise cookies!
What to shop
Sifnos is not only about the sea and the food. It's about culture as well. It's the traditions and values which the people hold so dear that make this place unique and the residents proud. One of the most ancient crafts practiced in Sifnos is pottery making. There are numerous workshops across the island where the most beautiful pieces of art are created, from plates and bowls to lanterns and souvenirs. The designs are unique, the color palettes are inspiring, and the potters are true artisans. It really is something worth bringing back home with you.
Don't miss…
…the church celebrations and feasts! There are 360 churches on the island as per the days of the year, each with a story and a festival of its own. The most famous ones are held at the monastery of Panagia Chrysopigi and the church Epta Martyres. But, I will always have a special place in my heart for the celebrations held at the church of Taxiarchis Merisinis in Vathi and at the monastery Panagia tou Vounou, which overlooks Platys Gialos.