Get to know the magical Cycladic island of Andros and experience only the best it has to offer with our insider's tips!
Andros is famous for its picturesque streets, charming villages, impressive architecture, gorgeous beaches, and unique biodiversity, as well as for its rich cultural heritage and maritime tradition. Get to know the magical Cycladic island of Andros and experience only the best it has to offer with our insider's tips!
[separator type="whitespace"]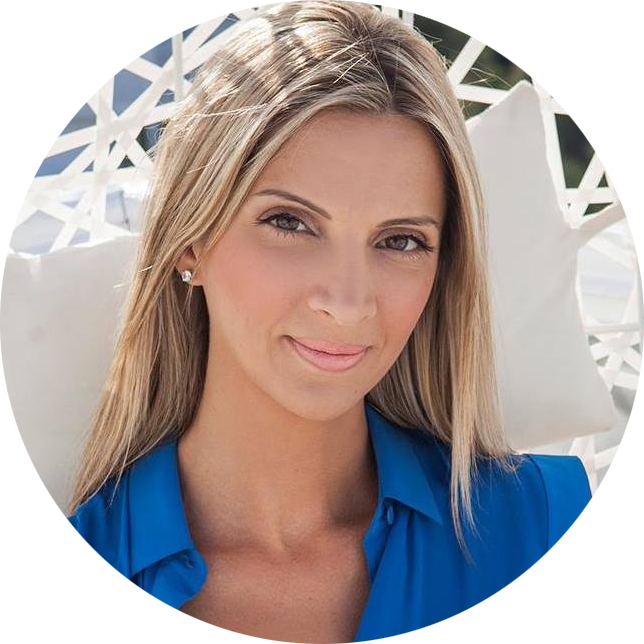 Tonia Vassilopoulou
Tonia is what we call the Queen of hospitality – she is the owner of St. George Lycabettus Hotel in Athens and Paradise Hotel in Andros. She is a world traveler and she recently published her first book, Suite Home Escape.
[separator type="whitespace"]
 When did you first visit Andros and what keeps you going back?
I first visited Andros as a baby; before I could even walk! I actually took my first steps while playing in the main town's central square. My childhood memories, my summer friends, and my family's hospitality business bring me back every year.
What's your most memorable experience there?
Talking and laughing with treasured friends on the beach at dawn.
What does summer mean to you?
Summer to me means freedom, excitement, the opportunity for adventure, and a lifetime of experiences with the ones I love—Andros represents all these things to me.
Which three words best describe Andros?
Relaxed, elegant, cultural. In one word, enchanting!
Where to Stay
In town: The Paradise Lifestyle Hotel, Chora (www.paradiseandros.gr)  
The Paradise Lifestyle Hotel is perfect if you want easy access to all the shops, taverns, cafes, bars, clubs, museums, and galleries on the picturesque main street.  You can also enjoy the beach, as it is merely walking distance from the hotel. With wonderful balcony views, elegant architecture, and amazing art exhibits, it is definitely a must-stay.
On the beach: Onar Stone Houses, Ahla Beach (www.onar-andros.gr)
Onar is located on the east side of Andros on one of the most magical beaches of the island. It is a small settlement of ten traditional cottages built with respect to the protected park of the Ahla wetlands and constructed exclusively of natural materials. If you're seeking a beautiful, minimalist environment where you can get close to nature, look no further!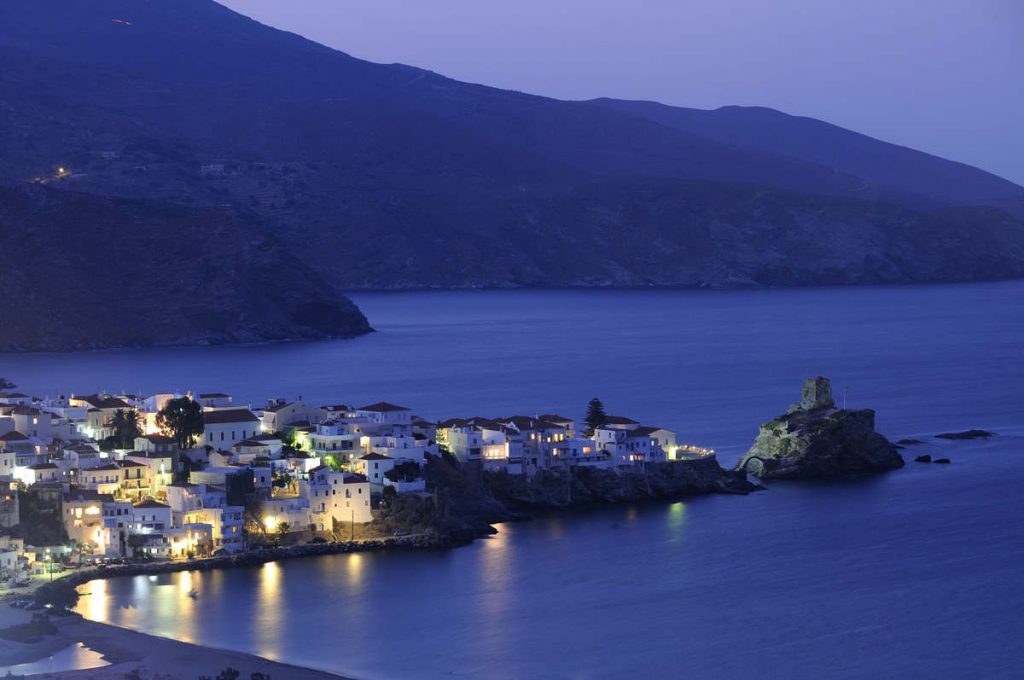 Top beaches
For adventurers, I recommend Zorkos Beach on the far northeast corner of Andros and Ahla Beach on the northeast side of the island. Apothikes Beach, a secluded cove with crystal clear waters on the southwest side of the island, is ideal for the more laid-back visitors.


Where to eat
The family-run tavern, Ta Skalakia, in Chora serves famous local dishes, such as "fourtalia"—a delicious traditional omelet with sausages. But, if you're looking for a dreamy balcony view, the tavern Mpalkoni tou Aigaiou (The Aegean Balcony) in Ano Aprovatou is the place to be. I love their "kokara alaniari" (free-range rooster) served with macaroni.
Where to drink
You can enjoy really nice cocktails under the stars and with a wonderful view of the marina at the open-air bar and restaurant Moomba, which is located on Nimborio Beach. Their Strawberry mojito is great! They play upbeat summer music, which adds to the whole fun, island vibe. If you're into jazz fusion, cocktails, and… pizza, then you must visit Νέω (Neo). It's hidden in the narrow side streets of Chora, which makes it even more charming.
Most Instagram-worthy views
Ahla is one of the most beautiful beaches on the island and is known for its unique scenery, while Grias to Pidima near Korthi Bay is the most photographed beach in Andros due to the captivating monolith that stands in the sea. Of course, the tavern Mpalkoni tou Aigaiou (The Aegean Balcony) is famous for its breathtaking balcony view.
Once-in-a-lifetime experience
I once dived from the rocks of Afanis Naftis square in Chora, where the big statue of the missing sailor is located. It was such a great experience. Try it if you're feeling adventurous! If you're into sailing, I would highly recommend a visit to the Andros Yacht Club where you can participate in their annual international yacht race. If you've never sailed before, the club offers sailing lessons for adults and kids. You can even try SUP (stand up paddle), which is so much fun!  androsrace.com/en/
Best kept secret
People usually visit Andros for its spectacular beaches, but few know about its superb walking, hiking, and horseback riding trails. If you really want to discover the island's ancient pathways and its plethora of natural wonders, this is the way to go! www.androsroutes.gr
The local spot
At the central pedestrian market street in Chora, you'll find all kinds of different shops, fashion boutiques, and galleries. A visit to the famous Goulandris Museum of Modern Art is a must! It hosts a different exhibition with global interest every year.
What to shop
Stock up on local delicacies, such as amygdalota (flourless almond cookies) from the traditional pastry shop Lygizos, located in Chora's central pedestrian walkway.
Don't miss
Don't leave without enjoying a concert or a theatre performance at the new open theatre in Chora, which operates under the artistic direction of the internationally acclaimed Greek director, Pantelis Voulgaris.