Check out our latest collection.
Space oddities, '80s fun, island vibes, fresh colors, stylish beach apparel and our long-awaited swimsuit line will make this a summer to remember.
Every spring feels like we're being reborn again. But this spring is particularly special for us as we are not only launching new gorgeous prints and colors but also our much-anticipated swimsuit line and super stylish beach apparel collection. After all, the beach is our canvas, always inspiring us to create items that go beyond fashion and feel right at home by the sea and pool. Enjoy!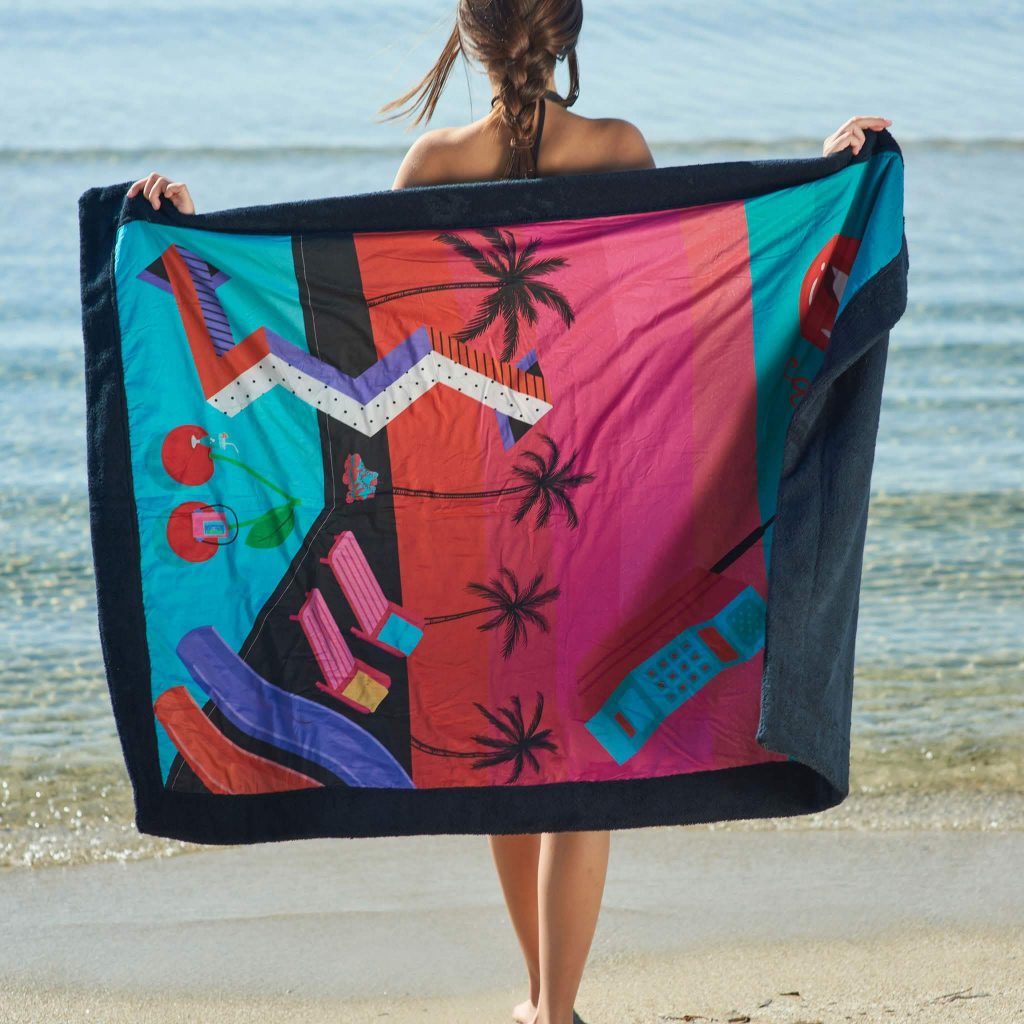 '80s Mix
Summer is a time for some major fun in the sun and what better way to do that than with prints inspired by the most fun decade ever, the eighties. Who remembers roller-skating while listening to their Walkman? Or what about pool parties with over-the-top colorful cocktails and huge mobile phones we couldn't wait to get our hands on when we grew up? Our teal Call Me Baby design has all those things and more! Want something brighter that yells, "Girls just want to have fun!"? Then our vibrant pink Don't Call Me Baby is your jam. If you're looking for something just as playful but also super sexy, then don't go to the beach without some Lipstick.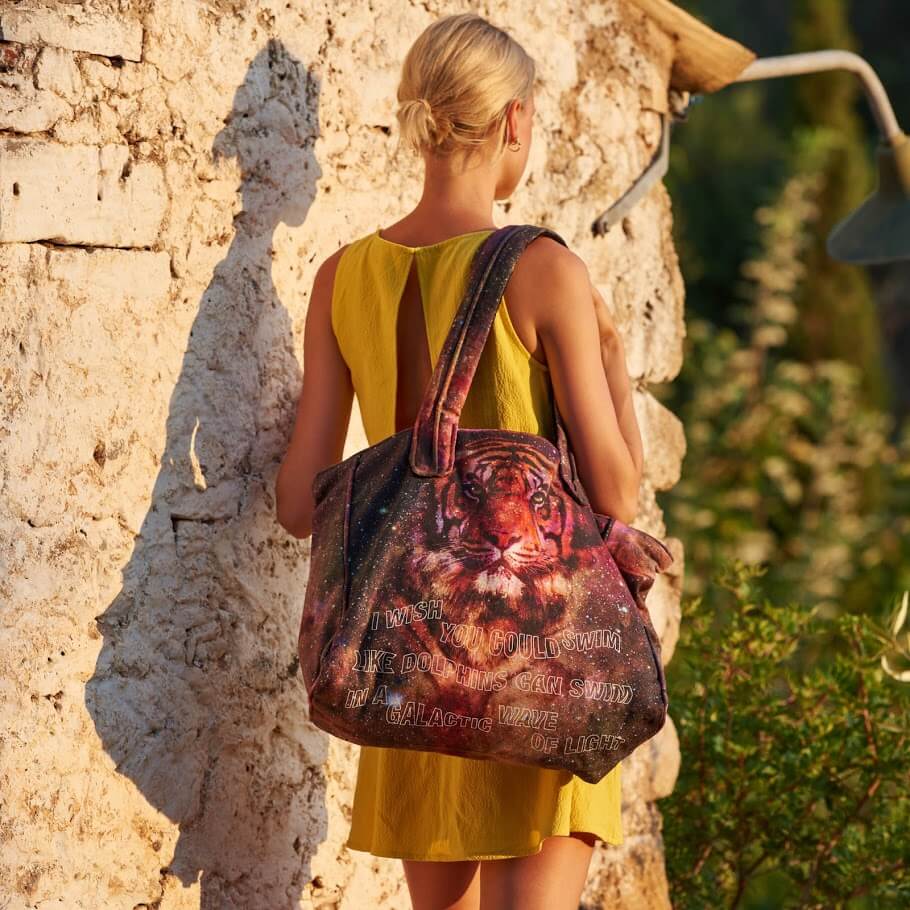 Year of the Tiger
2020 may be the year of the Rat and 2021 the year of the Ox, but here at Sun of a Beach, it's the year of the Tiger with our fresh take on animal print. It was Stephen Hawking that said, "Look up at the stars and not down at your feet," but it was another space oddity that inspired our out-of-this-world Galactic Tiger, a celestial design inviting you on a cosmic journey to the nearest beach. For something a little more down-to-earth, Savanna is an eye-catching beach essential. With earthy shades, discreet touches of color, tiger motifs and leopard prints, it's making fashion lovers go wild. Finally, there's the fierce and chic Life of Pi in ebony and ivory— you'll make a statement without being loud.
Island Life
We're all about the beach, which means we're all about the island life! Sure, we love Mediterranean locales, but our three new prints have us dreaming of cocktails, crystal waters and white sand in a tropical paradise. Reminiscent of palm trees swaying in a gentle summer breeze, the minimal & fresh Havana pattern is the perfect pick for beachy-chic looks. For some, however, there's no such thing as too many palm trees or too many colors. Lucky for them, our super lush Bahamas print has an abundance of both. And because our classic Hawaiian Tropic motif has been such a huge success over the years, we created a "sister" design called Surf 'n Turf with details depicting striking cliffs, vibrant flowers and mighty waves that will bring that carefree holoholo vibe to every holiday destination.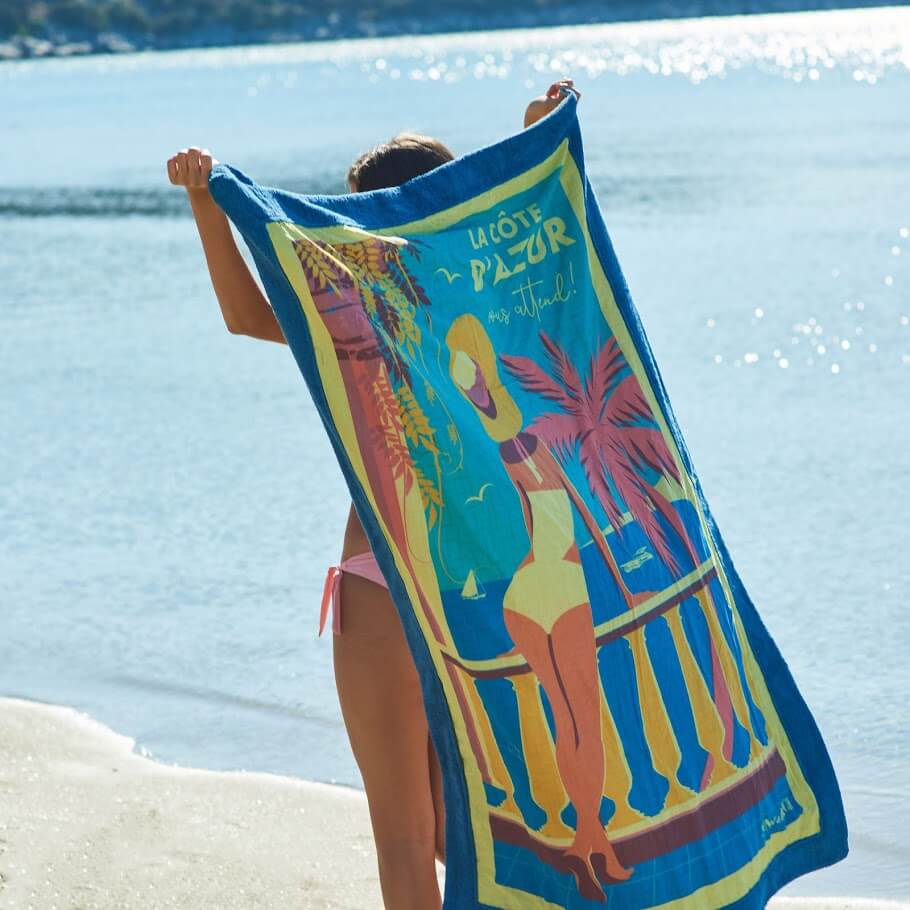 Mediterranean Sky
As you may already know, we were born in Greece and raised on the beach. We spent our childhood summers on the Greek islands and do so still. That's why the Mediterranean has had such an everlasting impact on us and in turn, everything we do—it ties everything together. So, we expanded our Mediterranean line with new prints and colors for men, women and kids. In the same spirit as our best-seller La Gréce design, Côte d'Azur embodies the iconic glamour of the French Riviera through the lens of vintage travel posters; guaranteed to bring a dose of nostalgic charm to the beach or pool. Then, there is the graphic, multi-colored Majorca Tiles; a chic twist on stripes, transported from the beautiful Spanish island. It's ideal for when you want to add a pop of color to your neutral summer looks.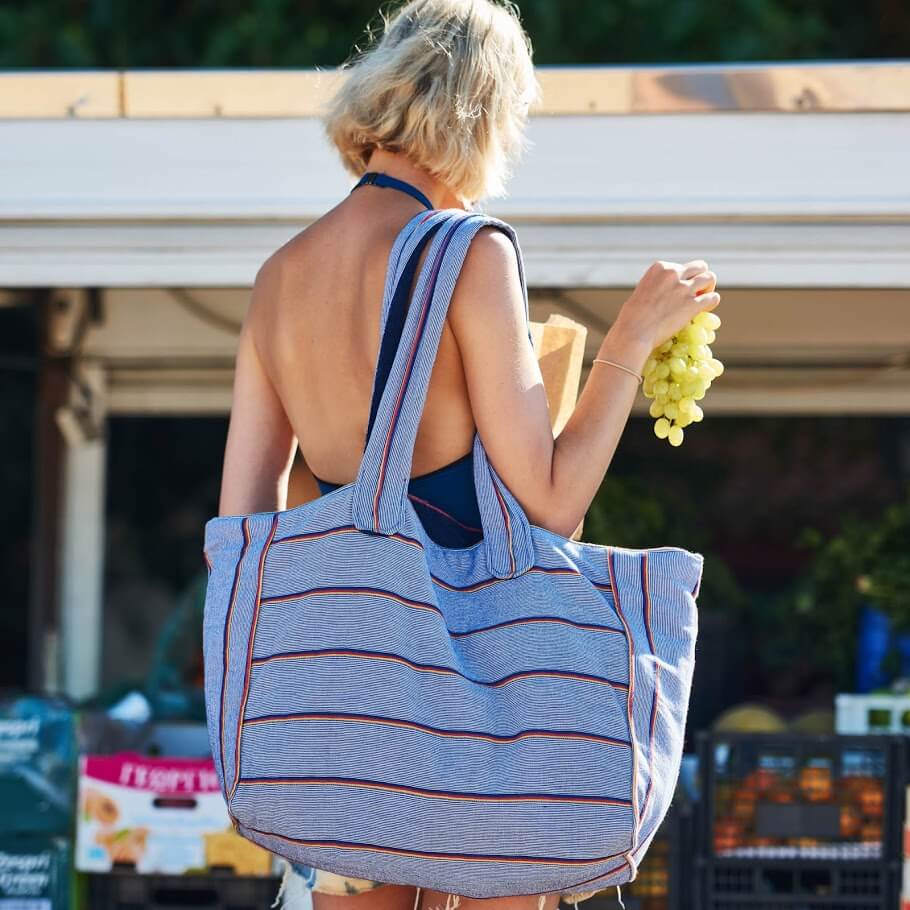 Of course, we couldn't ignore our local beauties, such as the gorgeous island of Hydra. Dressed in colorful woven stripes, our Hydronetta towels, accessories and apparel will add a worldly bohemian vibe to all your beach looks. We also updated the simple and elegant Tinos design, which depicts the dovecotes found on the most spiritual island of Greece. This season, it features deep blue tones and graphic lines, making it a must-item for sophisticated travelers. Looking for something a little cheekier? Check out Summer in Greece, our ode to traditional Greek mementos. We had so much fun with this one and we know you will too!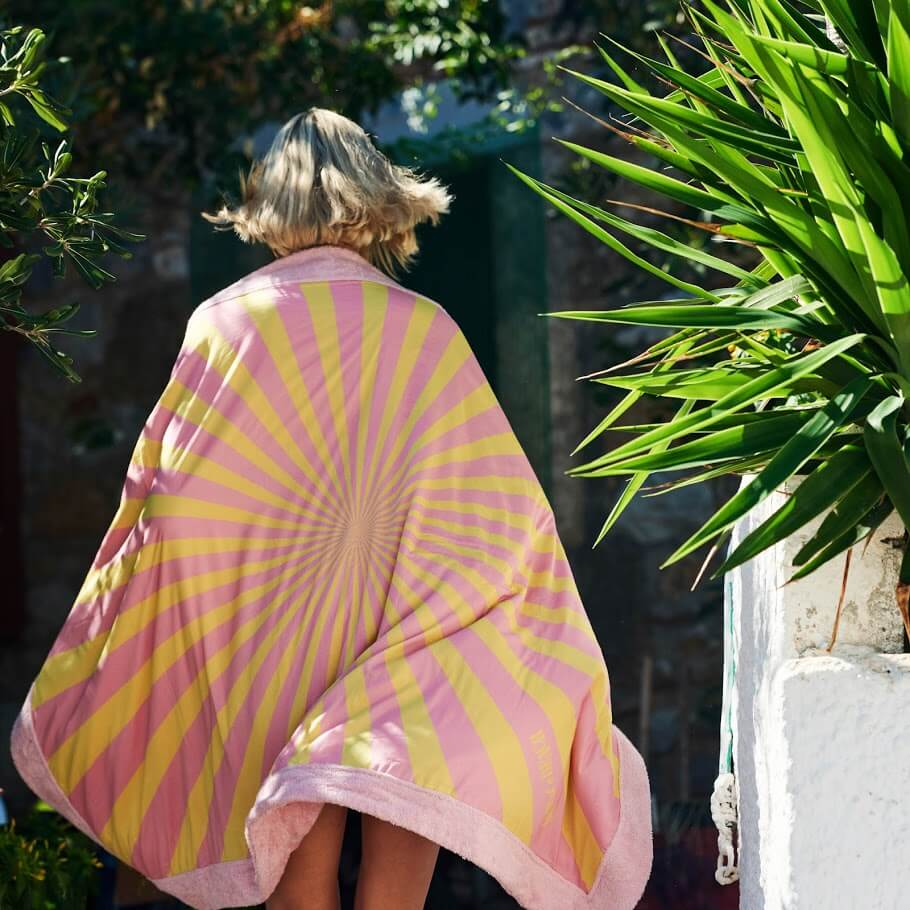 Color Theory
Color is still something we love in the summer. The Swimmers is a playful print bursting with vibrant hues and vacation vibes so you can make a splash with your poolside style. Some of our favorites this season are undoubtedly the sweet and chic Lollipop, the super summery Sunburst and the modern Le Grand Blue, all featuring sculptural lines that will add a burst of color to all your holiday looks. And let's not forget our new Monochrome shade, Just Blue, which we've also released in a smaller, kid version of our Monochrome beach towel. Mirroring the expansiveness of the sky and the sea, this passe-partout option goes with practically anything. Pair with bright white for a look that's always classic but never dull. But, don't fret pink lovers… we also created a kid's version of our Monochrome beach towel in Just Pink to keep everyone happy!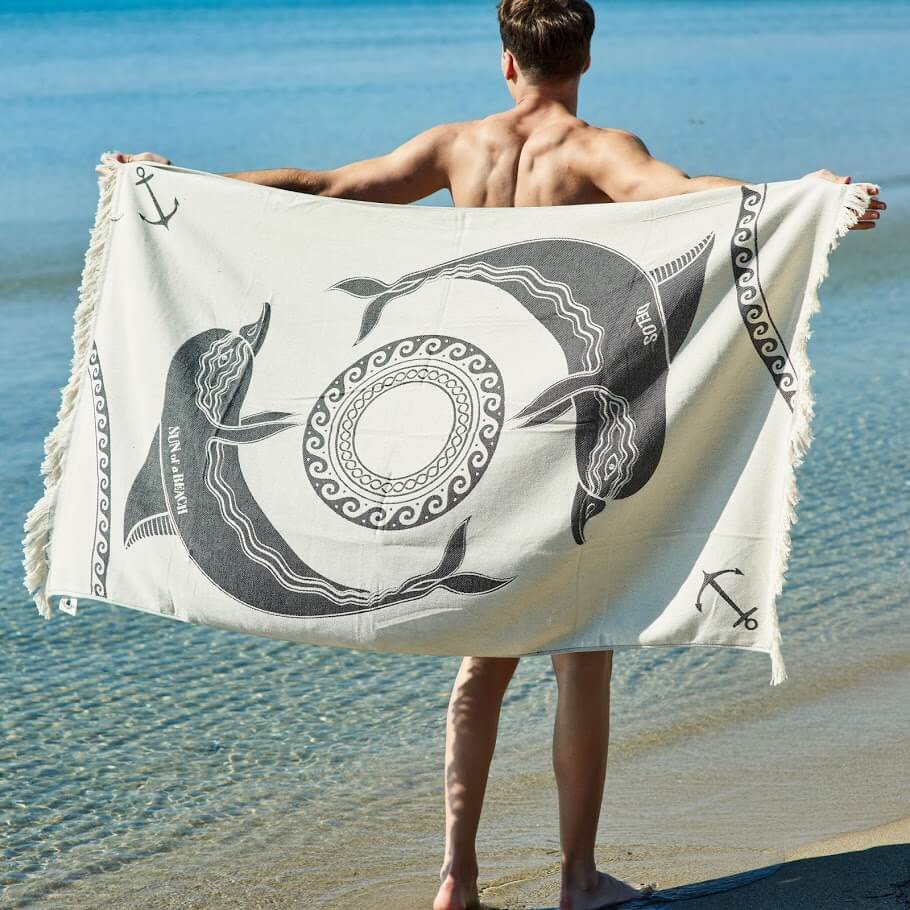 Fresh styles
Another favorite, the Feather Towel line, has also grown and includes new designs based on our Mediterranean and Tropicana collections along with our original cool motifs. These are, Delos, inspired by a mosaic found in the House of Dolphins on one of the most sacred islands of ancient Greece, Galactic Tiger, Lollipop in pink, orange and grey, Summer in Greece, our classic Third Eye in pink, burgundy and petrol and our new love, Je t'aime Mykonos. Extremely absorbent and light as a feather, the Feather towel inspires multiple uses on and off the beach. Just use your imagination!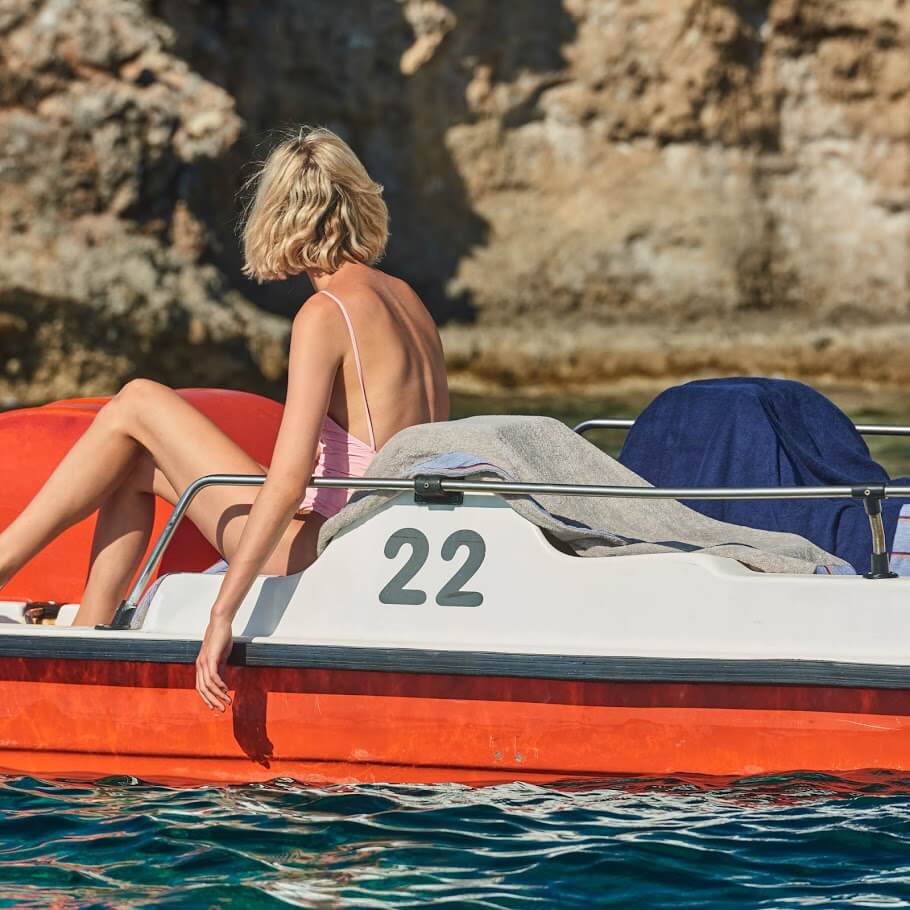 Coming soon
Finally, we will be launching beautiful, chic and practical apparel and swimsuit lines that will complete your seaside looks in the most stylish way. Not your typical cover-ups, the Beach Robe and Beach Bum Dress are feminine and versatile options that can be worn on and off the beach with a swimsuit or a pair of shorts and a tank top. Dressed in some of our most beautiful prints, they're guaranteed to monopolize the attention wherever you go. Stay tuned for our long-awaited swimsuit lines for men, women and kids as well, featuring flattering styles in a large range of prints and colors. They're perfect for creating mini-me combinations as patterns come in both adult and kid sizes to make a unified family style-statement! This season, Sun of a Beach will be your one-stop destination for all your vacation style needs.
See you at the beach!
Your summer friend.
Product Mix
BEACH TOWELS
We want our beach towels super soft, comfy, absorbent, quick-dry and bursting with color and character. That's why we've created 5 different beach towel categories that cover all the bases. Our original and premium Signature option features a fluffy towel on one side and cotton-poplin on the other with a framed pattern that showcases our bold prints. For a little more coverage, we designed the long Head 2 Toe collection, which can completely cover a lounge chair, as well as protect your feet from getting burned by the hot sand. For something simple and chic, check out our solid-colored Monochrome line that includes smaller versions for kids. Going to the beach with family and friends? Though technically not a towel, our XL Beach Blanket has enough room to fit everyone comfortably. Or, maybe you're looking for a multifunctional item that looks fashionable but won't take up space in your backpack or weigh you down. Well, we have you covered there as well with our Feather Towels!
BEACH BAGS
We always keep our beach bags locked and loaded for when the opportunity strikes. And just to be clear, as experts in all-things beach, we don't throw our things in just any bag. We want ours to combine functionality and beauty and to be made from the best quality cotton. Our search led us to create a range of fashionable designs dressed in gorgeous prints and colors, for every seaside need. The Oversized Beach Bag has a solid structure and is super spacious, ideal for family getaways and all-day seaside gatherings with friends. The Beach Tote and Beach Pack are roomy options for long days under the sun, while our Backpack and Bucket Bag items are perfect for laid-back mornings, carefree nights, island shopping and post-beach excursions.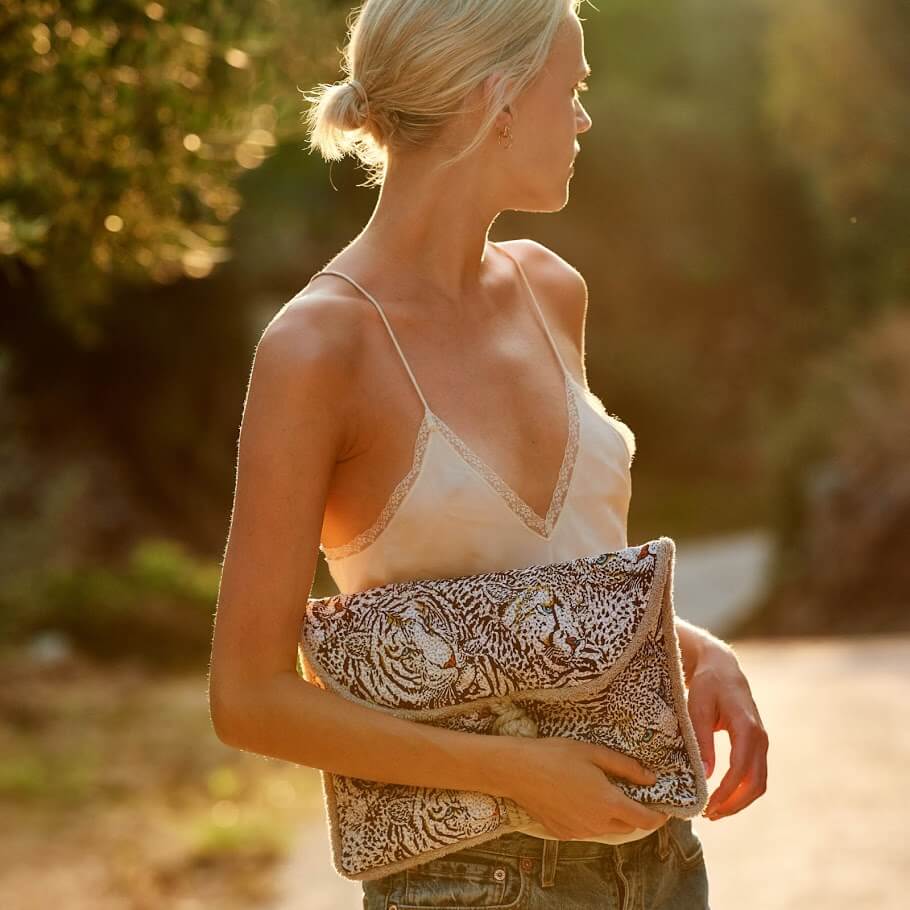 POUCHES
A beach bag isn't complete without a beach pouch. Small but mighty, this versatile summer accessory can transform itself from a practical case for your valuables or makeup to a stylish evening clutch in an instant. The Passepartout Pouch has a soft cotton interior and printed canvas exterior and will perfectly protect your tablet, phone and keys from the sun. The Holiday Pochette has a waterproof interior that can be wiped clean and can be used as a makeup case, a baby wash bag or to store your wet bathing suit. The elegant Envelope Pouch is lined with 100% cotton towel and decorated with eye-catching patterns, making it wonderful for drinks at the rooftop bar or as a protective case for your high-tech gadgets on the beach. Another great day-to-night option is the Fringy Clutch decorated with our signature boho fringes.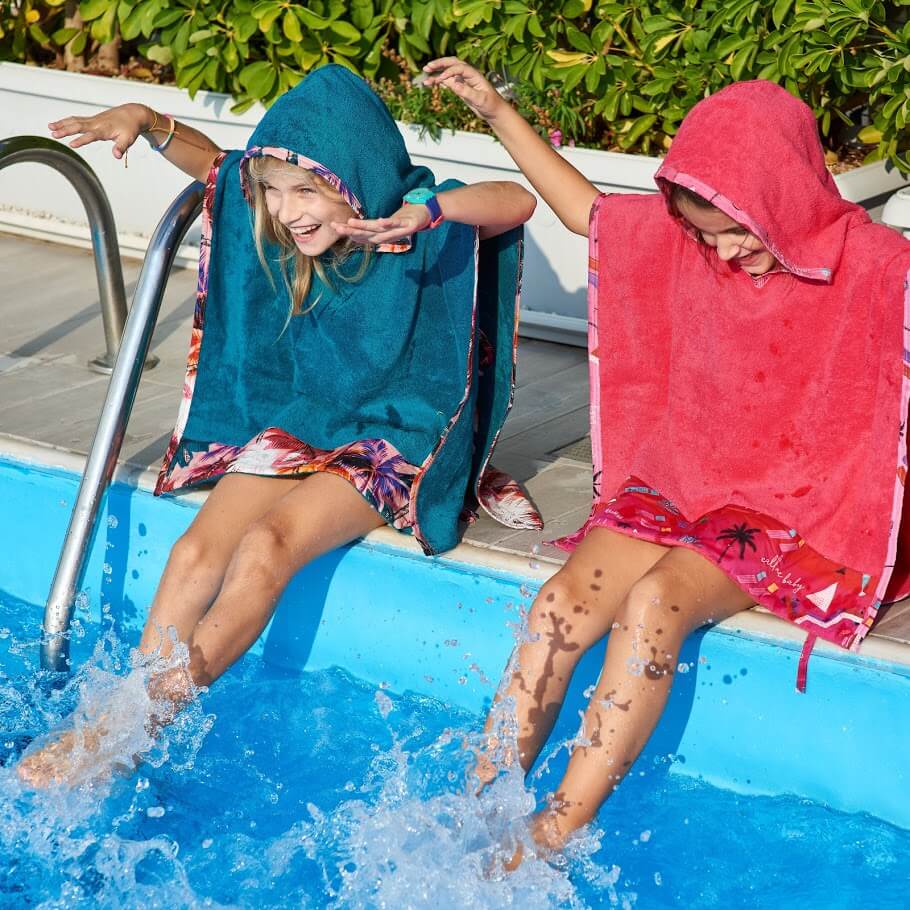 BABY & KIDS TOWELS
Babies and kids also need loving care and style on the beach. That's why we recommend our hooded Baby Beach Towel to keep little ones cozy and warm after playing in the water. Made from 100% Egyptian cotton, they're super soft and dressed in our striking prints. They also have a hood to protect their heads from the breeze and sun. You can even flip them over and use them as a play mat. For the older kids, we have the Hooded Beach Poncho. Made from super-durable, high-quality materials, they can handle endless hours of play, sun, and washes, year after year. Featuring our gorgeous timeless prints, kids will never get bored with them. And don't forget to check out our kid versions of our Monochrome Towel in Just Blue and Just Pink.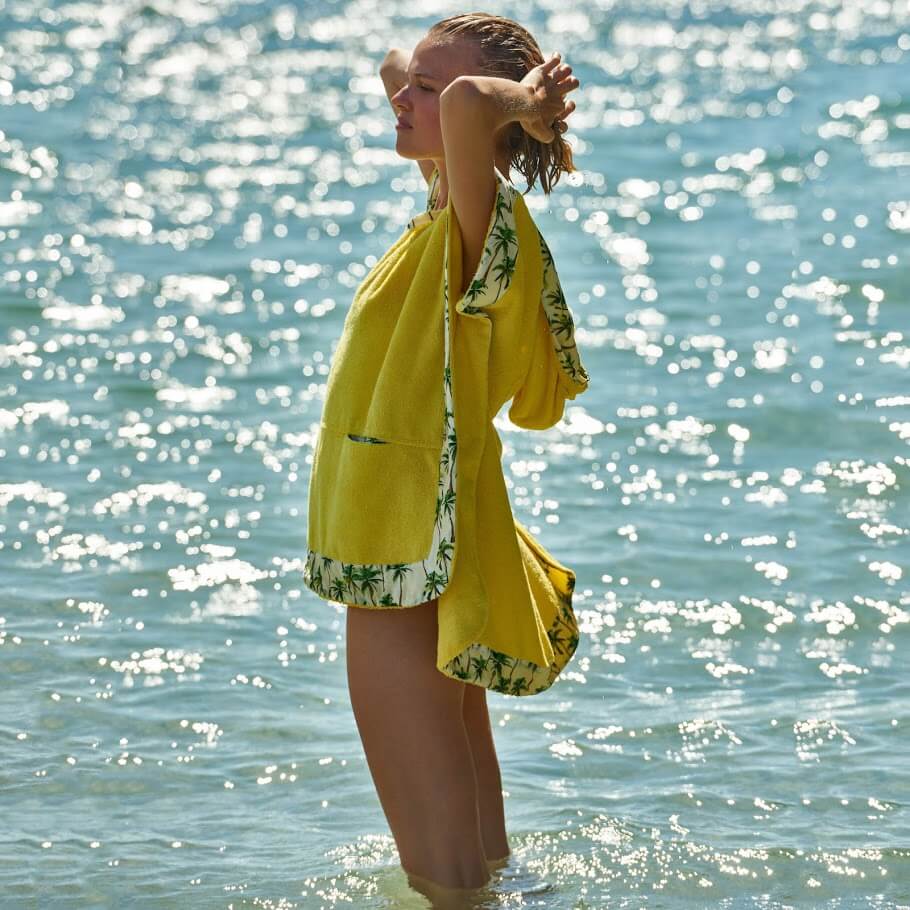 APPAREL
Here at Sun of a Beach, we're known for our beautiful and soft beach towels, however, if you're looking for something different, yet just as practical, we've got you covered. Discover our apparel collection with beach dresses and cover-ups made from 100% soft cotton. Our Beach Hoodie and Lolita Vest are the perfect summer staples that function as a towel but also as a stylish cover-up. Wear them over a wet bikini to feel warm and relaxed after a long swim or to just look cool! Our brand new Beach Robe and Beach Bum Dress are other feminine and versatile options that look right at home on and off the beach. Just get creative! All apparel items feature this season's hottest colors and striking prints.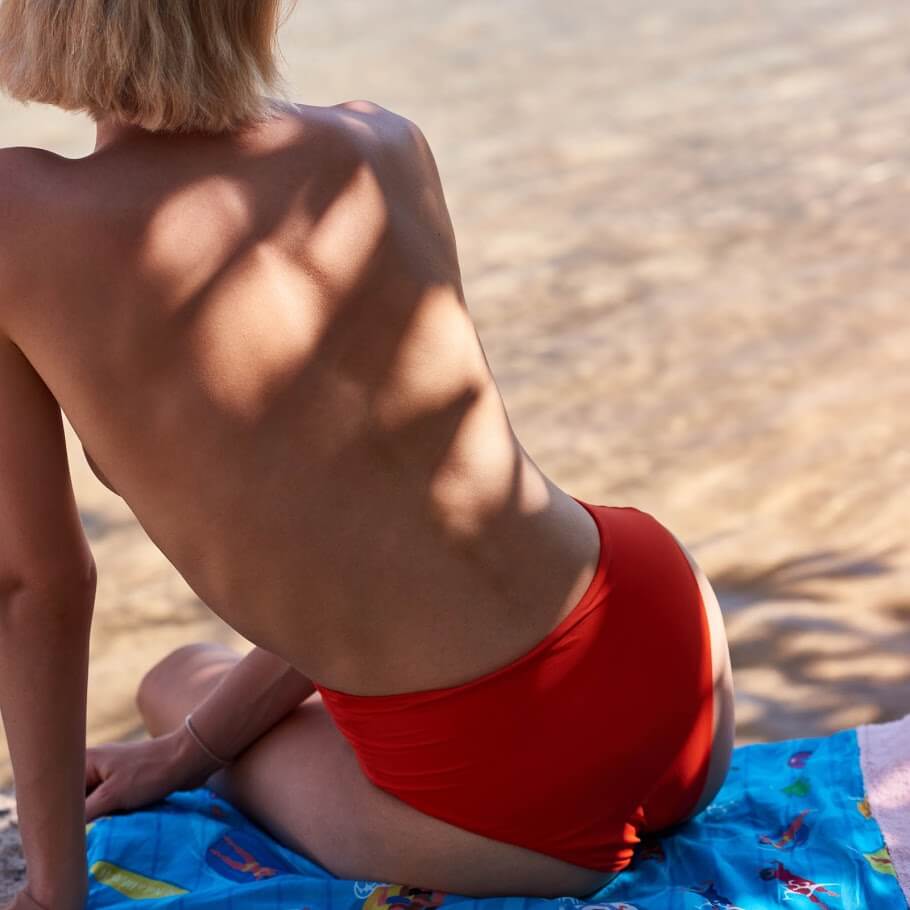 SWIMWEAR – Coming soon
The whole family will rule the beach with our long-awaited swimsuit collections in a large range of colors, prints and styles for women, men and kids. Our women's one-piece suits and bikini sets were designed to be flattering, feminine and comfortable. Just choose between the retro High-waist Bikini, the hippie-chic '70s Bikini, the modern Bandeau and Tie-Side Bikinis or the contemporary Halterneck and V-Shape one-piece suits for an effortless beachside look. For the men, we created bathing trunks designed with a smooth hypoallergenic inner lining that prevents chafing and other irritations for all-day comfort at the beach or pool. Don't miss out on the twinning fun with swimwear for boys and girls that come in the same prints and colors as adult swimsuits as well as extra UV 50+ protection to keep them safe by the sea. If you want even greater sun-safety, we've created a T-shirt with UV 50+ protection, perfect for little adventurers who want to play all day.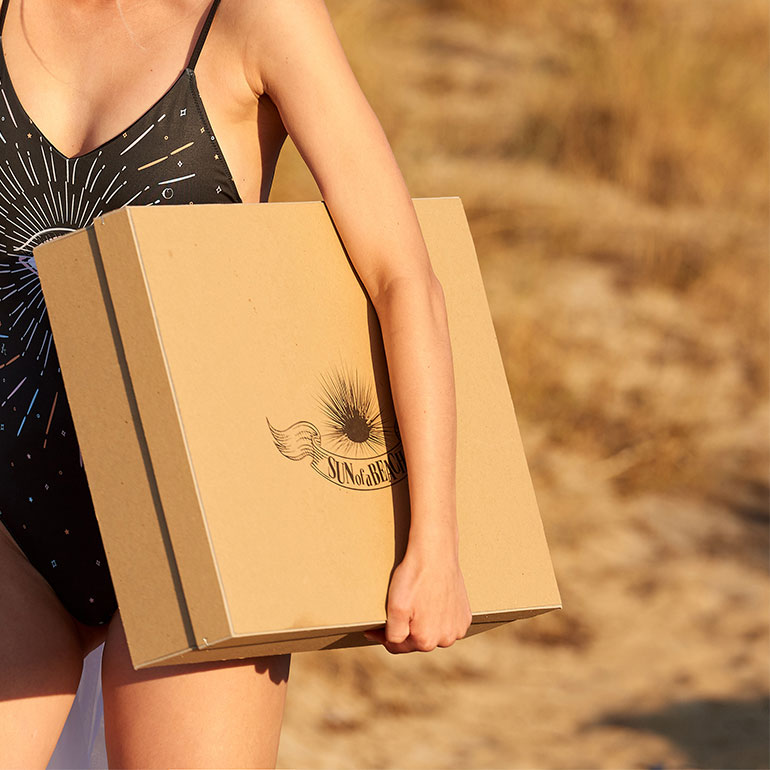 GIFTS
Whether you want to celebrate a wedding, the birth of a new family member, an anniversary or even a christening, family and friends will love our unique gift boxes. For the couple who loves the beach, our Wedding Box is a unique and unconventional present consisting of two items from either of our Sun of a Beach towel or apparel collections, beautifully packaged and elegantly presented in our special gift box. Our Mini-Me Box was inspired by the special bond between a child and its parents and pairs a beach towel with a Kid's Poncho or Baby Towel. Is someone expecting twins? Our twin sets Double Trouble will be a hit! We also offer a Family Gift Box with a beach towel set of 4 or 3. Our Kids' Ponchos are one size, suitable for 3 to 12-year-olds and our Baby Towels are suitable for 0 to 2-year-olds.