Arty, playful, fresh, sophisticated, our latest patterns are giving us—and our beautiful towels, accessories, swimwear, and beach apparel—new life.
If the past two years have taught us anything, it's that we must always treasure the present moment but also look ahead with hope and anticipation of wonderful experiences. And though preparing for a laidback summer vacation may seem frivolous to some, it's the one thing that keeps us in a positive state of mind. So, whether you're planning to travel the world or stay put with family and friends, we have the perfect designs that will lift your mood and capture the vibes you want to embody no matter where you are.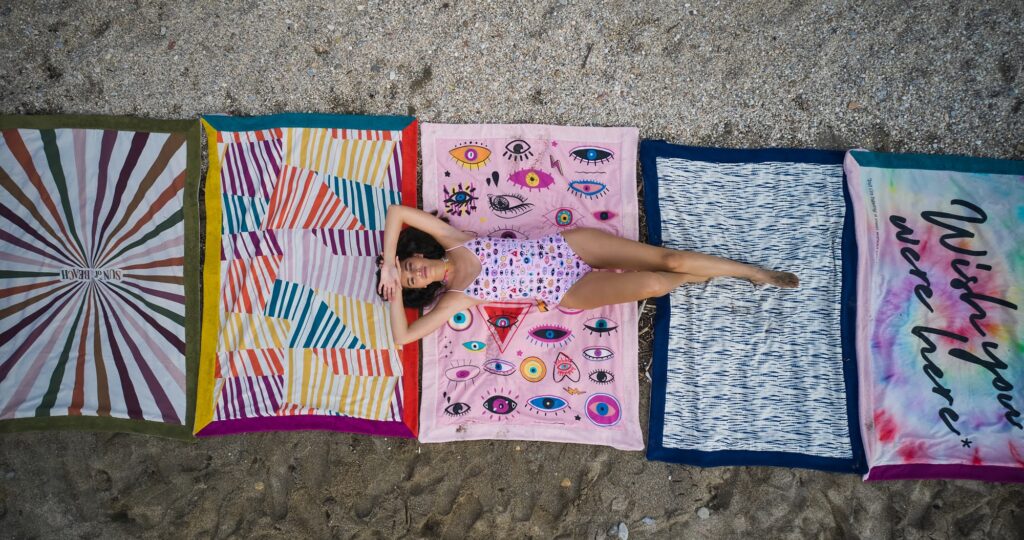 Artful expression
Creativity is the cornerstone of humanity. It's the one thing that transcends all as it's a requirement for progress, innovation, and expression in both science and the arts. But, when it comes to mirroring our emotions, our culture, and current events, artists are the master creators. We've always been moved by art and often look for ways to support local artists (Who can forget our "Make a Splash" exhibition at Zoumboulakis Galleries where we presented eight limited towel designs by eight artists?). This season is no different, with three new patterns inspired by Yiannis Moralis, one of the most prolific Greek artists of the last century.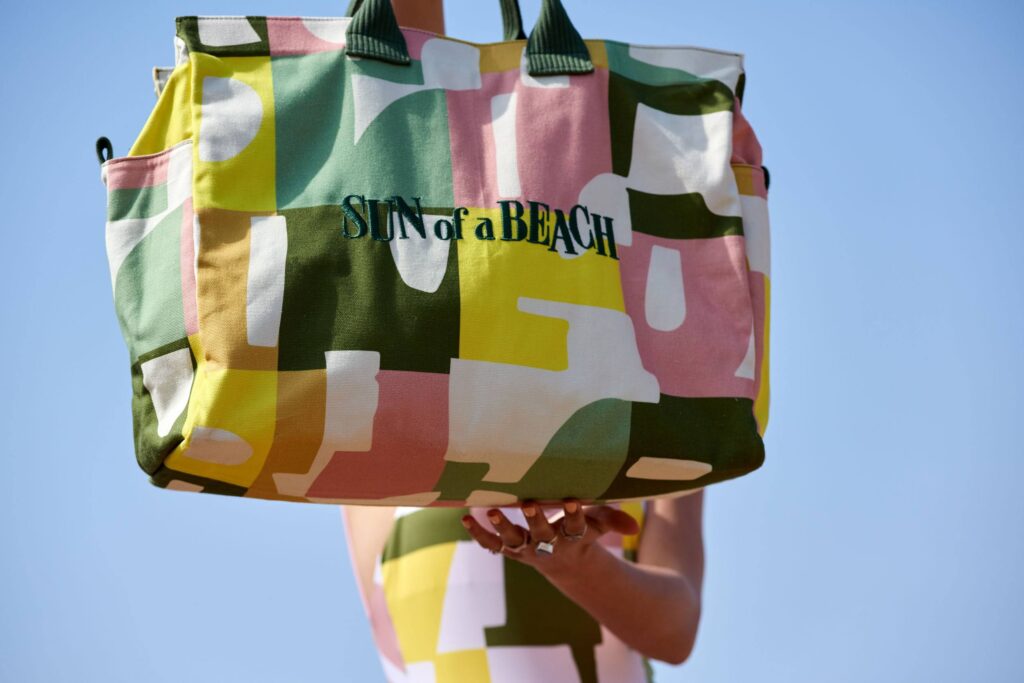 Influenced by some of his more abstract and expressionist works, Eroticon, Full Moon, and Daydreaming incorporate his characteristic curved geometric shapes in minimal muted color tones. Beach towels, swimwear, apparel, and accessories in these patterns become living canvases as they accompany you by the beach and pool.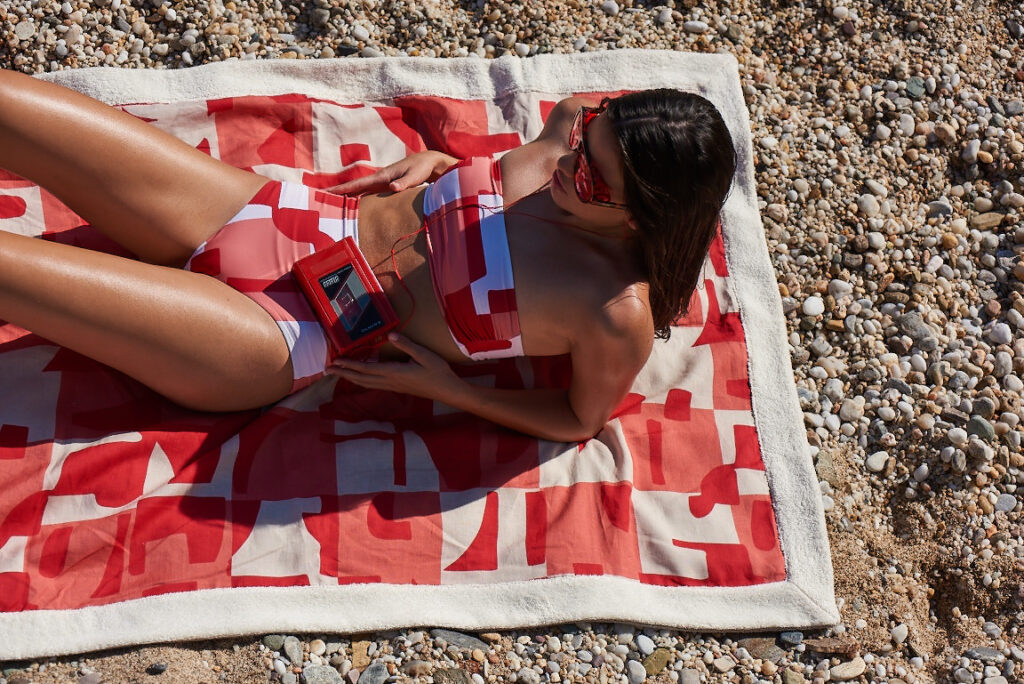 Greece is the word
What better than tall, swaying tropical palm trees to shake off winter's chill and get you in a warm-weather mood? Actually, many people don't know that Athens used to be a palm-tree paradise. Of course, they're not so common these days, but you can still enjoy a little reminder of their golden years by driving along the city coastline. Or, you can just bring them with you wherever you go with our Athens Riviera beach towels, accessories, and apparel in blue and white. More of a Cote d'Azur type of person? Don't worry; we won't take it personally. Our new French Riviera has your favorite palm tree design in sophisticated pink and white.
An iconic Greek symbol that has been around forever and is most definitely not going anywhere anytime soon is the evil eye. Ubiquitous in its use to ward off negative energy, we've played around with it over the past few years, but we've moved away from its traditional image and given it a pop twist this season. With a pink background and illustrated eyes in fun shapes and colors, Electric Eyes is a unique print for anyone with an… eye for style. (See what we did there?) Starry Eyes has a similar design but has a white background that makes the graphics pop! (Oops, we did it again!) Either way, all eyes will be on you!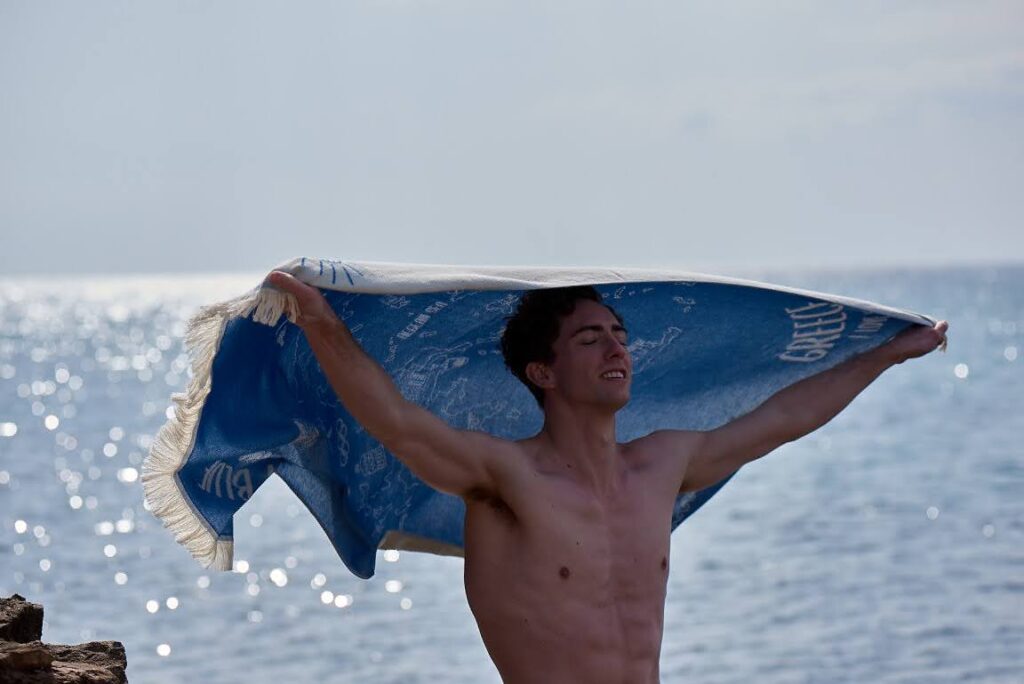 Hold the line
Chic stripes are an all-time classic, forever associated with Mediterranean summers. But the past few seasons, we've been feeling a bit adventurous and decided to deconstruct this popular pattern giving it a more modern feel. After the success of Athens Tiles and Majorca Tiles, we introduce Cycladic Disco, a graphic, multicolored beauty that combines burnt orange, mustard yellow, cypress green, and eggplant purple; The perfect choice for those who dance to the beat of their own… drum machine. Next up is Ray of Dark and Ray of Light. These two earthy-toned sunburst designs are coming off the success of last year's Hollywood Hills and Sunrise (get them while you still can). If you couldn't tell already, warm, grounding hues are a favorite of ours lately. Maybe it's the mood of the times, but regardless, we love the look of combining neutral colors such as brown, black, and off-white with muted shades of purple, pink, orange, and sage.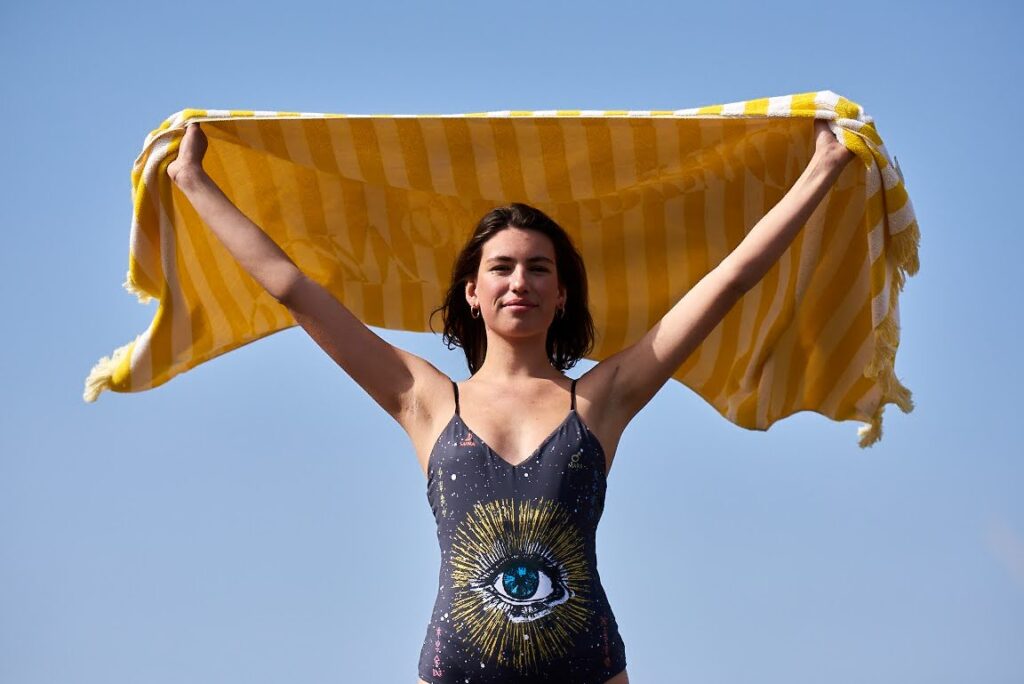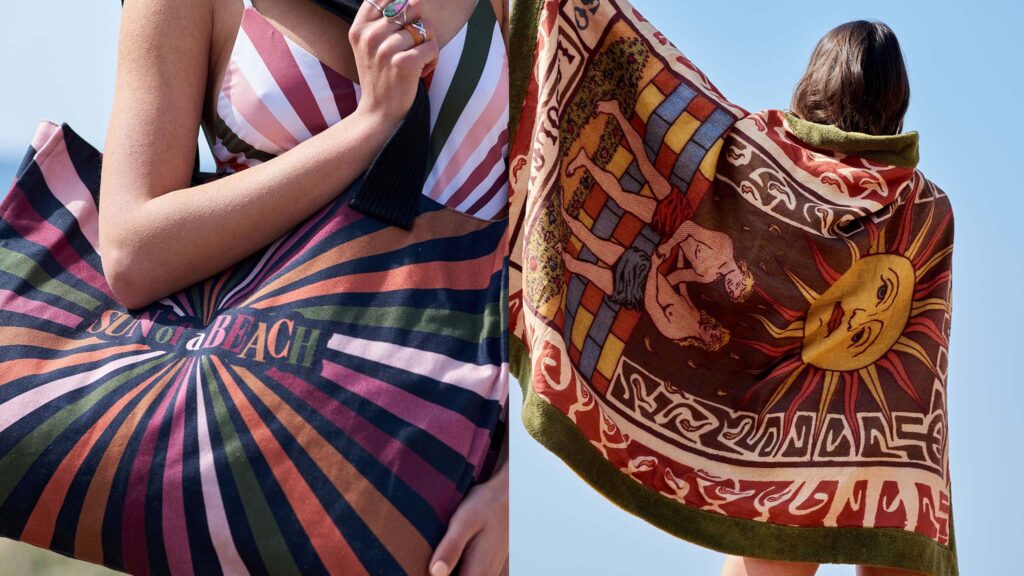 Festival season
What's summer without a groovy music festival? And what's a groovy music festival without some tie-dye? The Signature Beach Towel Wish You Were Here*, is a playful take on the famous phrase used on holiday postcards the world over (and by Pink Floyd) and features big, bold letters and a colorful, funky tie-dye color-wash design. Blink, and you'll miss the sub-phrase *but I'm having a blast without you too. It will feel right at home on the beach and at an all-day concert. Its "sister", Burning Man Head 2 Toe Beach Towel, has a frame decorated in the same tie-dyed color-washed design and a solid center in pink, fluo, or grey.
If you're less of a dusty desert hippy and more of a "Herodeon" kind of person (Google it), then Summer Breeze is the style for you. A sophisticated take on the tie-dye trend in blue and white, its discreet, chic pattern is a Mediterranean, Cycladic dream. Oh, and don't forget to visit the fortune teller booth (okay, well, California music festivals have them for sure) with our luxuriously retro Le Soleil Signature Beach Towel. A nod to the symbolic imageries of classic tarot cards, its intricate design and warm colors are guaranteed to bring happiness and positivity to your summer looks.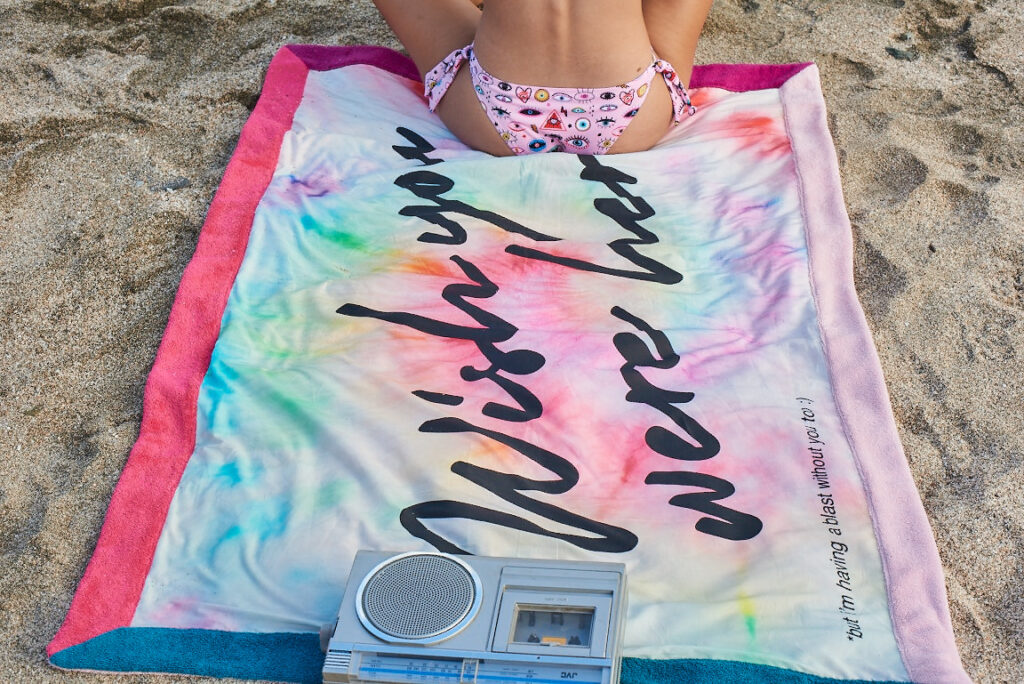 WWF
Finally, let's not forget our beloved WWF collection, which we created to raise awareness for the endangered sea life of the Mediterranean, which faces serious threats from overfishing, climate change, and pollution. This season we have two new additions, Octopus (in pink and blue) and Sea Turtle, two underwater creatures known for their exceptional intelligence and overall cuteness! As with all of our WWF designs, ten percent of every sale goes to support the efforts of WWF Greece in protecting the region's marine animals.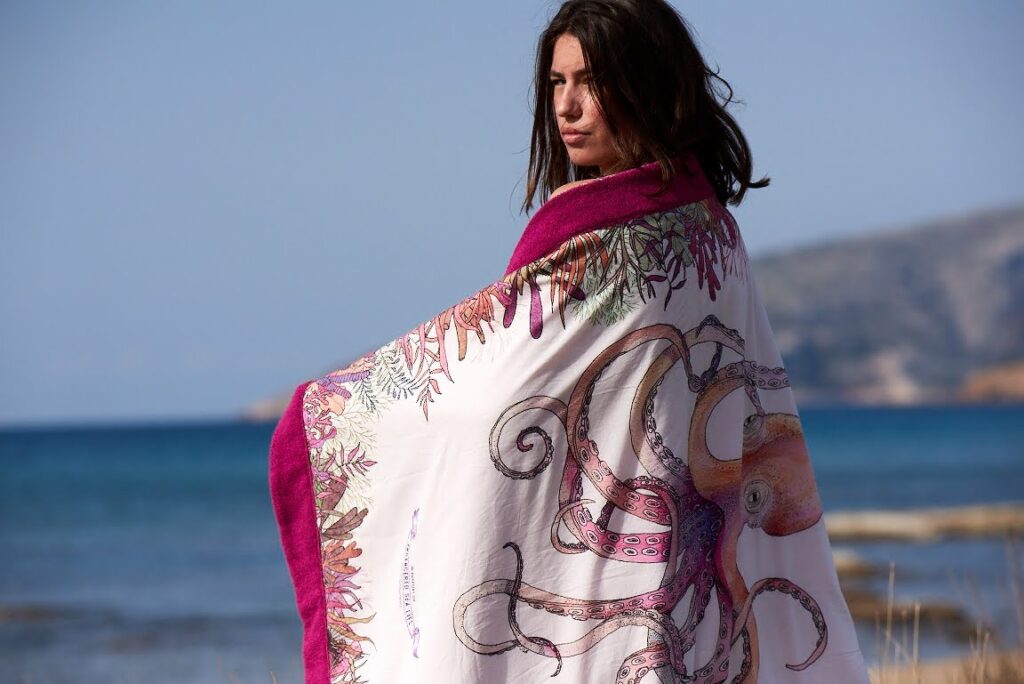 Here's to even better beach days to come. See you there!
Your Summer Friend