Nothing represents Sun of a Beach more than the sun and the sea. That's why we're so excited about our latest collaboration with artist Christianna Economou who designed our very own Sun of a Beach fishing boat, which will be displayed until the end of summer at our pop-up store at attica in Golden Hall. We sat down and spoke to the Central Saint Martins graduate about art, life on the remote Cycladic islands, and keeping traditions alive.
You studied and worked in London, left for India, and now you live on the small island of Schoinoussa. How did your love for the Greek islands guide your life's journey?
I lived in London for five years where I studied sculpture at Central Saint Martins, and then I volunteered in India for a little while. I had a great time in London. However, my work was always connected with the history of Greece and its old traditions that have slowly faded over time. Everything I did somehow revolved around that concept. For my dissertation, I started focusing on the small traditional fishing boats, kaikia, which were being destroyed. At some point, I felt that since my work centered around Greece so much, it didn't make sense to be so far away, therefore I decided to return. I always loved the islands where I would spend all of my summers. The small communities and being near the ocean enchanted me.
In 2015 I found "home" in Schoinoussa where I renovated my first fishing boat. This project then expanded to a second boat in Irakleia and a third boat in Koufonisi. At the same time, I taught—and still teach— art to local children in Schoinoussa and Irakleia. So, I'm basically living between these three islands now.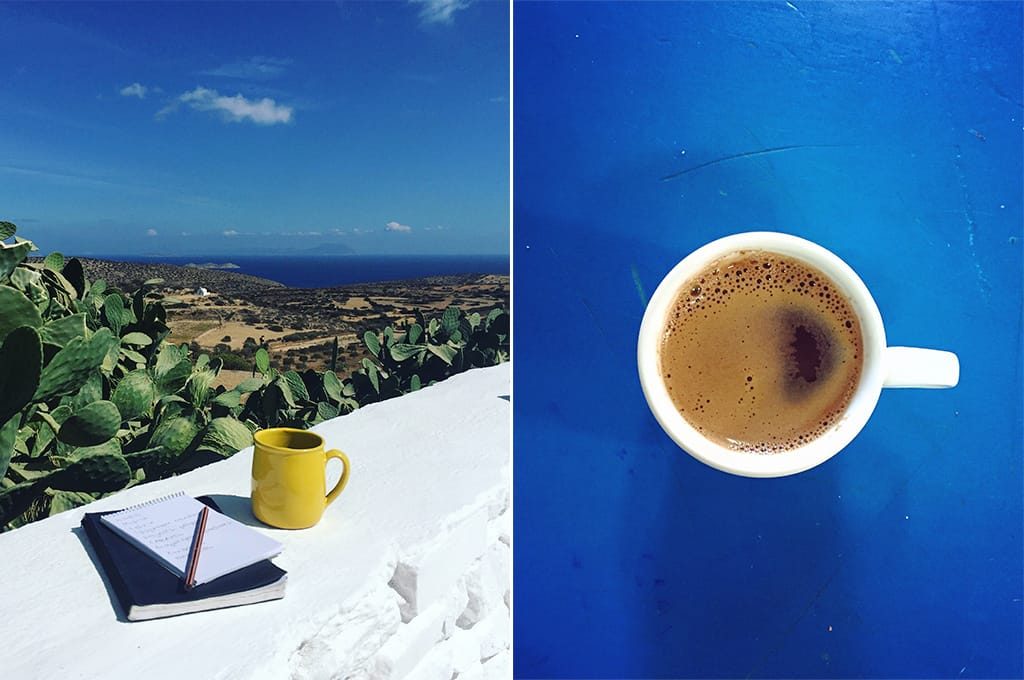 What role does tradition play in your everyday life?
It plays a big role. Just imagine that these are small remote islands of the "Agoni Grammi" (non-profit line), so things seem to be frozen in time. Communication is very difficult, especially in Irakleia, which doesn't even have a gas station. You have to get gas from Schoinoussa. It's even more challenging in the winter when the weather is bad and boats aren't allowed to leave the port. Access to even some basic services, such as a pharmacy, is difficult. But, despite all that, life is good here. Traditions have been preserved and are experienced daily. My work with the fishing boats allows me to keep in touch with local customs. My art workshops with the children also involve old traditions and customs, which are approached in a modern and creative way.
Tell us about your "Fearless Boats" project.
The goal is to have a renovated fishing boat at the port of every small Cycladic island in order to bring awareness to the Greek traditional craftsmanship that has been lost. The Fearless Boats project, with the motto "All we see is the sea", started in 2015 when I found a kaiki in Schoinoussa and supervised its renovation. It was later displayed as an art piece in the island's port as a way to pay homage to all the small traditional fishing boats that have been destroyed. Then, I completed a second boat, Captain Giannis, in Irakleia and now I've started working on a third kaiki named Kyra Sophia (Mrs. Sophia) in Koufonisi. It will be ready and presented at the end of June. Next locations include Donoussa and Amorgo.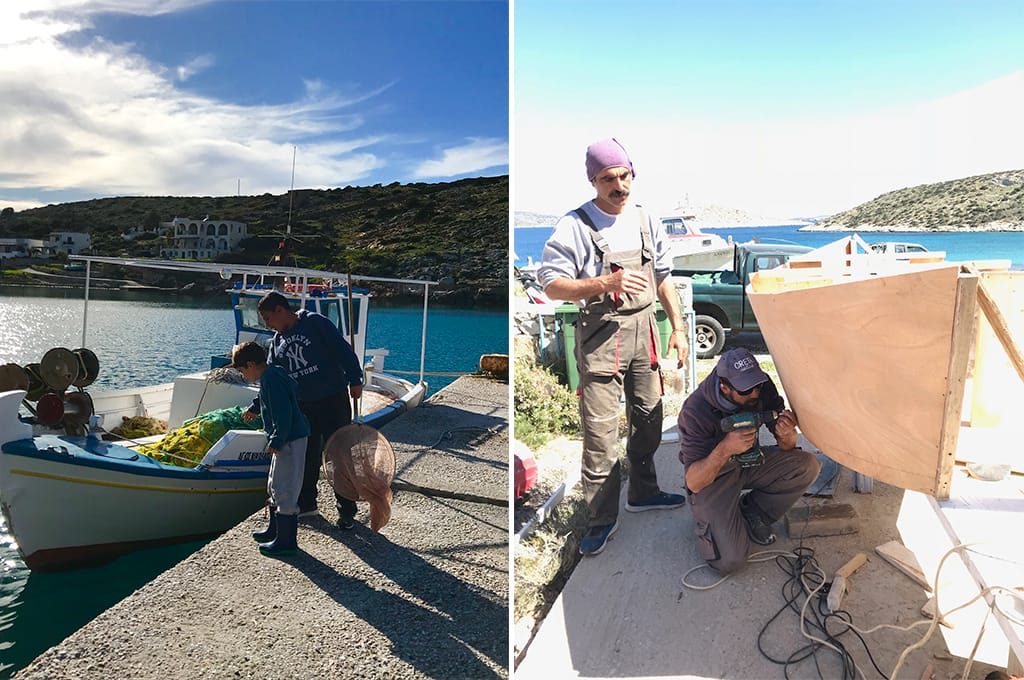 How do you find the fishing boats you restore?
I go to each island a year prior to search for available boats. Ideally, I would like to work with ones that have some sort of history. For example, in Koufonisi, I was able to get a historic boat that transported the people of the island during a time when bigger vessels couldn't dock there, as there weren't any piers. So, I look for a boat with good structure and a backstory.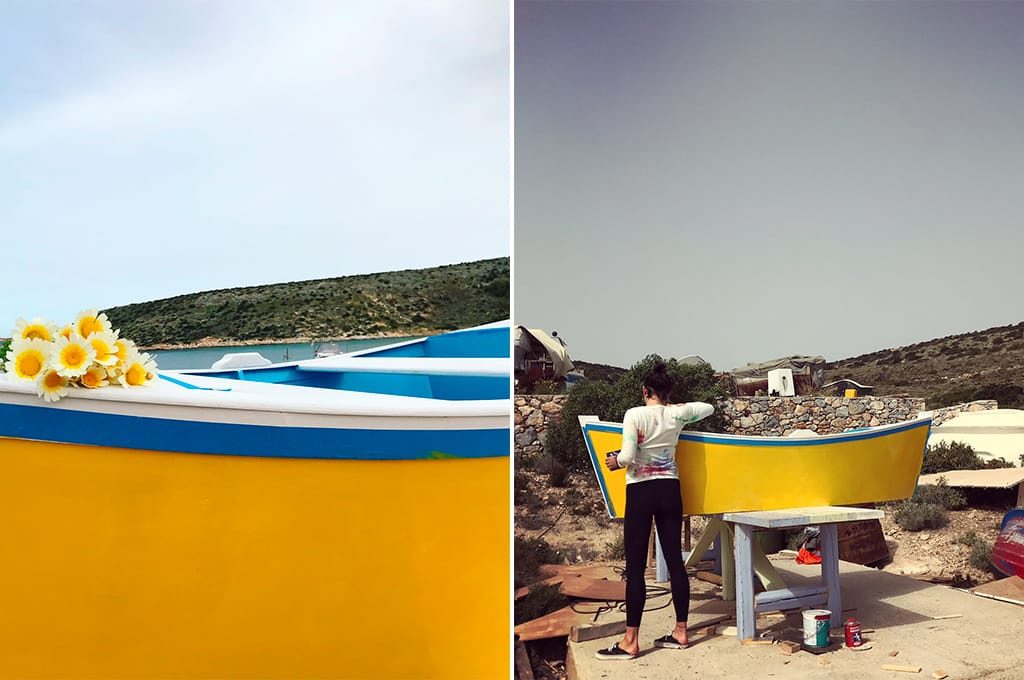 Describe the boat you designed for the Sun of a Beach pop-up store. What was your inspiration regarding the colors and details?
Well, I really wanted to use yellow as the main color. In general, I associate colors with feelings, thoughts, places, and memories. For some reason, I connect Irakleia with bright yellow. I even bought a yellow ceramic cup when I came here! The island is so bright and full of light, and yellow symbolizes that. I also associate it with the kaiki tradition. Plus, it seemed like a great match for Sun of a Beach! We ended up calling the boat Helios (sun) with the motto "Your summer friend from Irakleia." It all just fell into place and fit together nicely. Of course, the color white is very characteristic of the Cycladic islands and of the small fishing boats while the sea-blue color I used is the exact shade I used on the kaiki of Irakleia from my "Fearless Boats" project.
As for the details, I drew a sun symbol on the bow that looks like a spiral, a common design found on Irakleia from ancient times. You can see them on different stone structures around the island but people are still not sure what they symbolize or mean. Other small details include the letters "LN", which represent the port authority of Naxos, and the zip code of Irakleia, 884300. I also added an eye, a design detail that you'll find on all the boats I renovate. For me, it symbolizes a type of awakening, reminding us that we need to live in the present.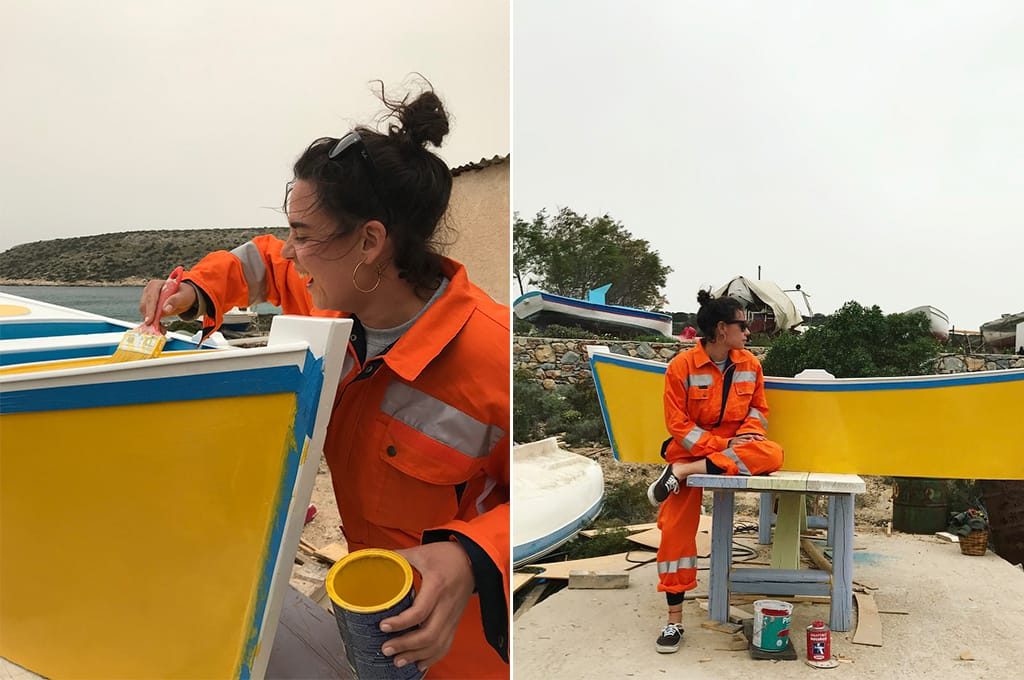 How about the construction of the boat? What was that process like?
The wood was ordered from Naxos and the goal was to recreate the look and feel of an authentic traditional fishing boat, but with lighter materials so that it can be transported easily.
The body of the boat was built from scratch at the karnayo (boatyard) of Irakleia and I couldn't have done it without my two team-members, Mitsos and Gianni. They are two locals who live on the island and are actually the same people who have the boatyard of Irakleia. They renovate and maintain kaikia here and also bring boats from Schoinoussa. They're engineers, but because the community is so small they do several other things as well, such as farming and construction. Schoinoussa and Irakleia are very close together, they are like one island, therefore we knew one another, but we got closer once we started working on my project. They are the ones that helped me to make Captain Giannis and they're the ones who are helping me with the kaiki of Koufonisi.
Why do you feel it was important for the boat to be constructed on one of the small Cycladic islands? Was there a reason Irakleia was chosen?
Well, first of all, this is where my team and I work. This is our base. But, since it was a kaiki and we wanted to build it from scratch, it would be pointless to make it with a carpenter in Athens. Plus, making it on a Greek island gives it a different vibe. Of course, no one would know the difference if it was made in Athens, but I believe that there is something very special about a boat being made on an island and then having it travel to attica to be displayed in a pop-up store for a brand that is inextricably linked with the Greek summer; sea, kaikia, beach. I find it more authentic and interesting.
In order to arrive in Athens, it made quite a trip! It left Irakleia on "Skopeliti", the local boat that services the small Cycladic islands, and then it went to Schoinoussa where it was picked up by a carrier who then shipped it to Athens with a large commercial ship.
What were the challenges regarding its construction?
We've never done anything like this before, therefore a big challenge was getting the proportions right. Making a smaller model was difficult because we were accustomed to renovating normal fishing boats. For example, the size of the mast needed to match the rest of the boat and look accurate. We also had to find ways to make it as light as possible. At first, we thought of making it into two pieces so it could be transported easily, but then it would look too fake. In the end, we decided to go with authenticity rather than what would be easier.
What was this whole experience like for you?
I loved this project! Working on a smaller sized boat and using all these bright colors was so much fun. Like I said, the community is very small here, so the boat created quite a stir, especially when we were in the process of designing and painting it. Anyone who passed by the karnayo would stop to admire how clean, small, and colorful it looked, like a bibelot. They would ask us all kinds of questions. In the end, I fell in love with Helios and was tempted to keep it for myself!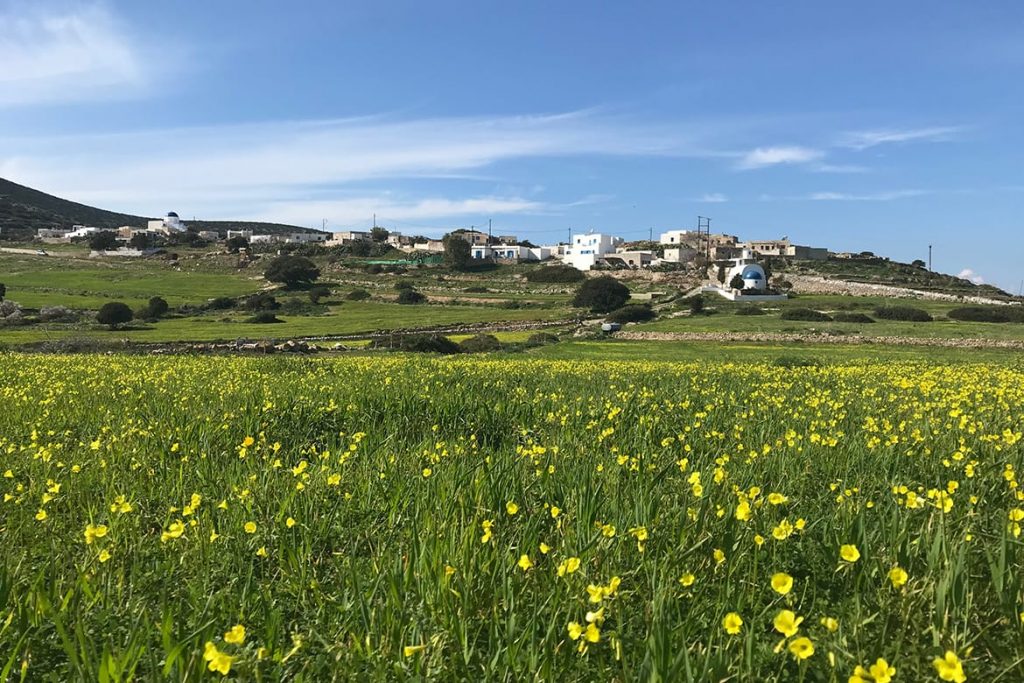 Where can we find you online?
You can find me at my website www.chrieco.com, as well as on Instagram as @chrieco29 where you can see inside photos from the islands and my projects, including the boat I made for Sun of a Beach.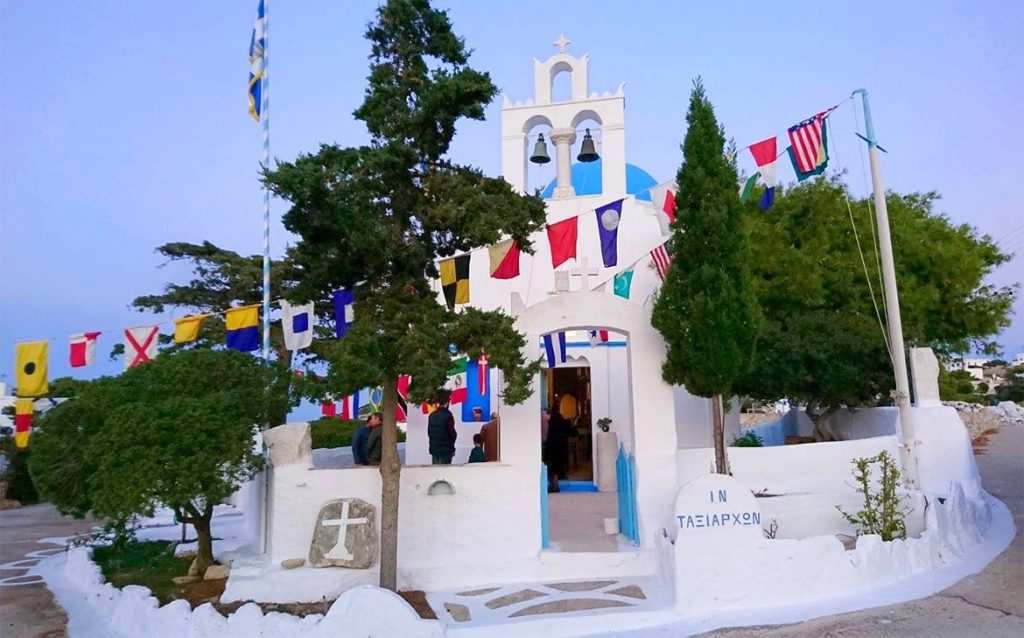 Top 5
Favorite beach: Merichas, Irakleia
Favorite summer song: "Thelw na vlepw ta karavia" by Nikos Oikonomidis
Favorite Sun of a Beach item: The Fringy Clutch
Favorite cocktail: I don't drink cocktails, only raki
Dream destination: Any small Cycladic island