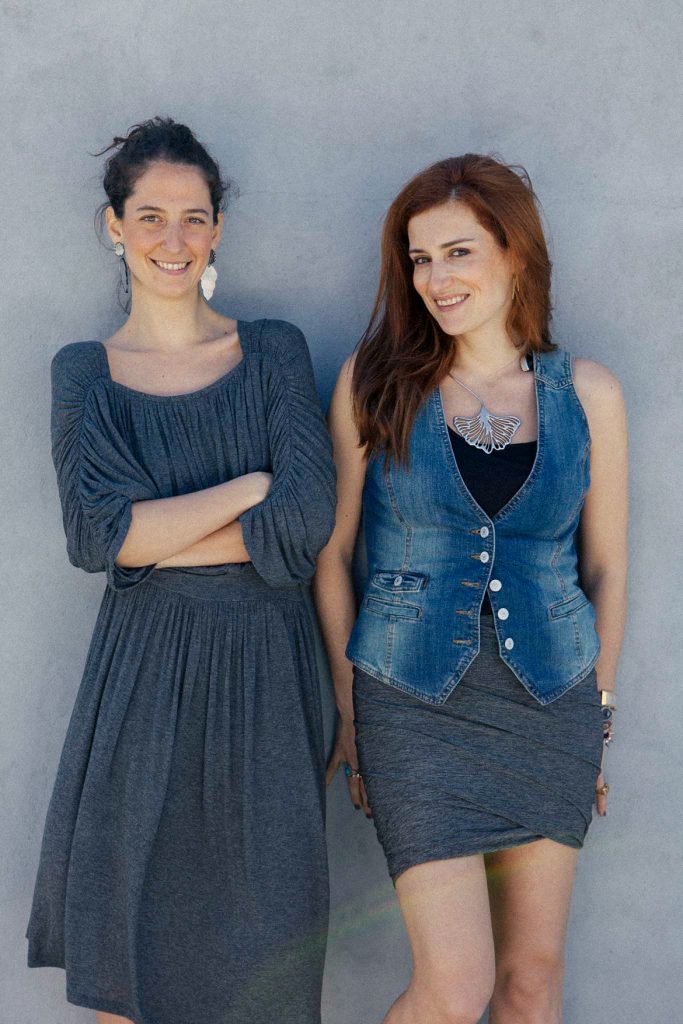 Melina & Ellie
Sun of a Beach lives and breathes the sea—revering the rise and fall of its tides, as well as the kaleidoscope of life that calls it "home". However, a shared love for the beach is what ultimately brought together Melina Pispa and Ellie Rountou, the two women behind the brand. We met up with the company's founders to talk business, inspiration, balance and succeeding against all odds.
Let's begin with how the two of you met.
Melina – Ellie and I knew each other in high school but we were never part of the same crowd. She made a good impression on me though. When I started dating her brother Kriton, who is now my husband, we began to hang out more often and we gradually became very close friends. Now, she is the person I spend most of my day with and I love it!
Ellie – We hadn't seen each other for many years after high school. Our paths crossed again in 2011 and that's when we realized we were both looking for a new adventure. So, we started brainstorming!
How did you combine your strengths and weaknesses when building the Sun of a Beach brand?
Melina – There are no weaknesses when it comes to Ellie and me – only joking of course! Truth is, we focused on our strengths and combined our passion for style, fashion, and creativity. Ellie's background in fashion styling, as well as my background in fashion design and styling helped us a lot. It gave us the experience and confidence we needed to move forward very quickly. Our ambition to create an innovative and fresh brand that embraces the heart of summer has driven us since the beginning.
What inspired you to create beach towels in particular?
Ellie – One thing was certain, both of us were in love with summer, so our new "baby" would have to be something summer related! At some point, while we were at a beautiful beach lying on our not-so-beautiful beach towels, we realized that what was missing from the market was a brand that offered premium, cool and fashionable beach towels. We fell in love with the idea of designing towels that would make the beaches even more beautiful. So, that was it- we had found our niche!
Melina – For me, a beach towel is the ultimate summer fashion accessory. It is actually the accessory that accompanies me in all my summer adventures and together we create the nicest memories. I have to say that my beach towel is my best summer friend. That's why it needs to be of high quality and aesthetics, have color and character, and feature a sophisticated or fun design, depending on my mood. I also want it to feel super soft against my skin. The search for the ultimate beach towel is what led us to create our own designs.
How do you decide on a design? What's the process?
Ellie – First, we become inspired by something! Our main inspiration is the summer and everything about it, from faraway tropical beaches to the picturesque Greek islands where we have spent all of our summers since childhood. Of course, we also take into account the latest fashion trends and various artistic influences. Plus, we always listen to our customers' needs when designing a new product.
Melina – A new design should look fresh, have character, and tell a story. Also, its colors should align with the rest of the collection and the mood of the season. We never want to repeat ourselves so we make sure that each collection offers unique designs that don't resemble anything we've done in the past.
What were the biggest obstacles you had to overcome in creating a business?
Ellie – First, we had to overcome the general sense of pessimism that was prevalent at the time! It was 2012, at the peak of the economic crisis in Greece, and we sounded like two crazy girls that wanted to go to Mars! Thankfully, this didn't intimidate us and we made the decision to follow our dream. When you do something that you believe in with all of your heart, chances are that you will be successful.  My personal challenge was managing my life with another "baby" in addition to the two children I already had— if you want your startup business to be successful, you must really love what you are doing, be persistent, and make sacrifices in order to see it grow, just as you would with your real children!
Can you recall a pivotal moment when you just knew all the hard work was worth it?
Melina – This for me was when Sun of a Beach products were displayed in key places, such as Le Bon Marche in Paris! Other moments include being shortlisted for Greece's 10 most innovative startups at the Hellenic Entrepreneurship Awards and winning the Stelios Entrepreneurship Award.
Ellie – We are enjoying the ride so much, it would be worth it even if the company hadn't been successful. In a way, having learned so many things has made us richer! However, the moment that made me realize that something could actually come out of all of our hard work was when famous department stores, such as Bloomingdale's and Le Bon Marche, placed orders.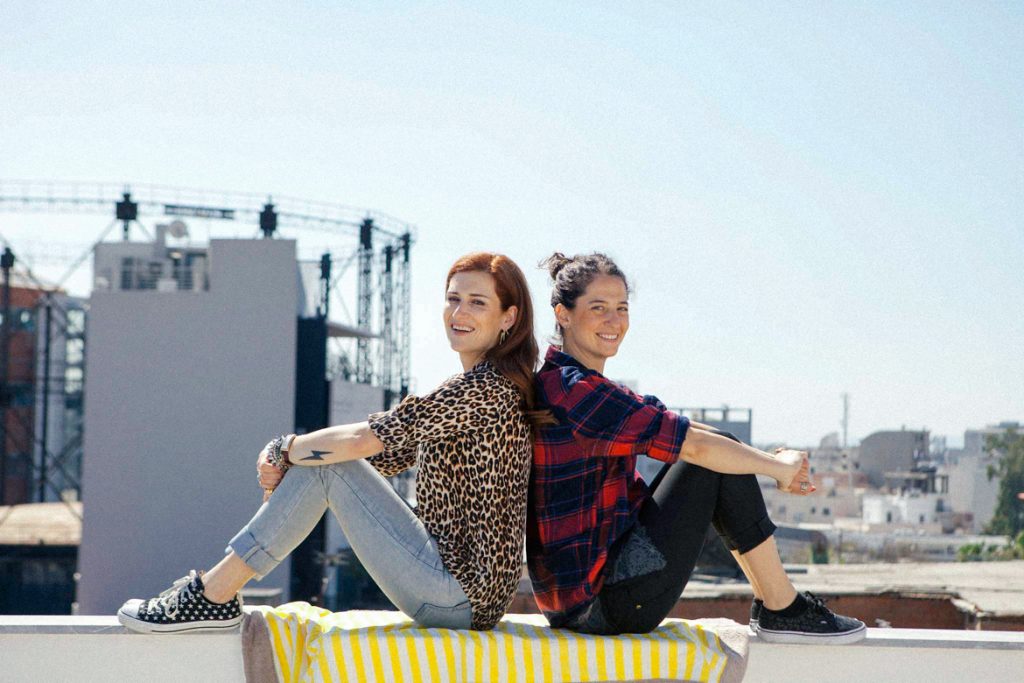 How do you manage stress? Is balancing work and your personal lives challenging?
Melina – I try to keep stress away as much as possible. My work has always given me great pleasure and creativity is part of my daily routine, so my work and personal life move along together and support one another.
Ellie – I take a lot of Valerian root supplements! Seriously, stress gets to me, but over the years I have found ways to better manage my work and personal life so that I don't freak out as much. Being organized is essential!
Do you have some tips on how to integrate the philosophy of slow living into a busy schedule?
Melina – No stress, good planning!
Ellie – Slow living happens only when I'm on holiday. However, not taking things too seriously might be the key.
Where do you see the brand in the next 10 years?
Melina – In the next 10 years I would like our towels to have traveled to as many beaches as possible around the world!
Ellie – My dream for Sun of a Beach would be to see our towels on every beach in the world!
Okay, we want to know. What's your all-time favorite beach, and why?
Melina– Simos beach in the island of Elafoniso, which is located in the southern part of Greece. Its crystal clear, turquoise-colored water, surrounded by tropical white sand dunes, makes it—in my opinion— the most beautiful beach in Greece!
Ellie – That's a difficult question as I've been to so many amazing beaches all over Greece! However, I would choose Seitani in Samos as my favorite, for its beauty and the color of its water, as well as for the memories of past childhood summers that it brings to mind every time I visit!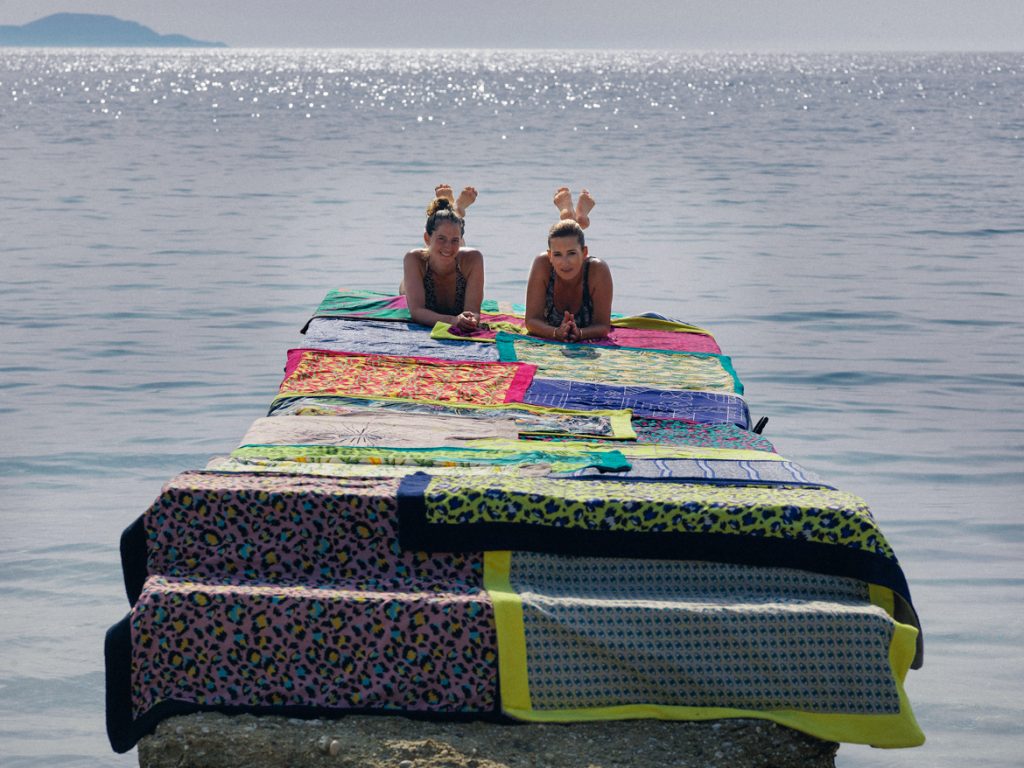 Melina's 5 quickies
Go-to app: Pinterest
Favorite poem: "Ithaca" by Greek poet C. P. Cavafy.
Happy place: Anywhere, as long as I am with my baby Maria.
Best summer song: "Kokomo" by the Beach Boys.
Guilty (or not so guilty) pleasure: Dinner at Le Relais de l'Entrecôte in Paris.
Ellie 5's quickies
Go-to app: Shazam. Best app in the whole world!
Favorite book: Norwegian Wood by Haruki Murakami.
Happy place: Sipping wine on the balcony of my summer home while gazing at the sea.
Best summer song: "Kokomo" by the Beach Boys.
Guilty (or not so guilty) pleasure: Wine and cheese. Very guilty!